EMERGENCY APPEAL FOR THE HAITI EARTHQUAKE
Injured and disabled people desperately need your help
12,000
people injured
with figures expected to rise
40,000
homes destroyed
and 46,000 damaged
500,000
children
have limited or no access to shelter, safe water and food.
Many of the survivors are seriously injured and in need of urgent support. Hospitals are already overwhelmed by demand. The situation is truly desperate.
And, just two days after the earthquake, Tropical Storm Grace lashed Haiti with drenching rains, causing landslides and flash flooding.
More than 1.2 million people, including 500,000 children, have been left stranded, with limited or no access to shelter, clean water and food.
It is now a race against time to reach them.
A boy sitting on a hospital bed outside Les Cayes General Hospital after the 7.2-magnitude earthquake.
Photo taken 15th August, 2021 in Les Cayes, Haiti. © Richard Pierrin/Getty Images
Our team in Haiti is equipped and prepared to provide desperately-needed in emergency care, rehabilitation and psychological support, as well as an aid distribution network. Additional emergency experts are on their way to the country.
Our priority actions are:
Medical support

(emergency care, rehabilitation, and psychological support)

Essential needs provision

(food, shelter, sanitation and hygiene)
Logistics platform for aid storage and distribution
It is vital that we act quickly after such a massive disaster, but we can't do it without vital emergency funds.
Can we count on your support to help the people of Haiti?
SUPPORT INJURED AND DISABLED PEOPLE IN HAITI
Humanity & Inclusion Canada is a member of the Humanitarian Coalition. Humanitarian Coalition members and their local partners are already actively responding by providing life-saving assistance to affected people.
The Humanitarian Coalition brings together 12 of Canada's leading humanitarian aid organizations to provide the public with a simple and effective way to help in large-scale emergencies. The following organizations are members of the Humanitarian Coalition: Action Against Hunger, Canadian Foodgrains Bank, Canadian Lutheran World Relief, CARE Canada, Médecins du Monde, Humanité et Inclusion, Islamic Relief Canada, Oxfam Canada, Oxfam-Québec, Plan International Canada, Save the Children, World Vision Canada.
For every donation made by Canadians to the Humanitarian Coalition and its 12 members, including Humanity & Inclusion Canada, the Government of Canada commits to doubling the amount of the donation by September 3.
HI's Head of Mission in Yemen
HI works with local medical teams in six hospitals and two rehabilitation centres in Sana'a, in the north of the country. Maud Bellon, HI's head of mission in Yemen, describes the disastrous situation, including overcrowded health facilities and the trauma suffered by patients.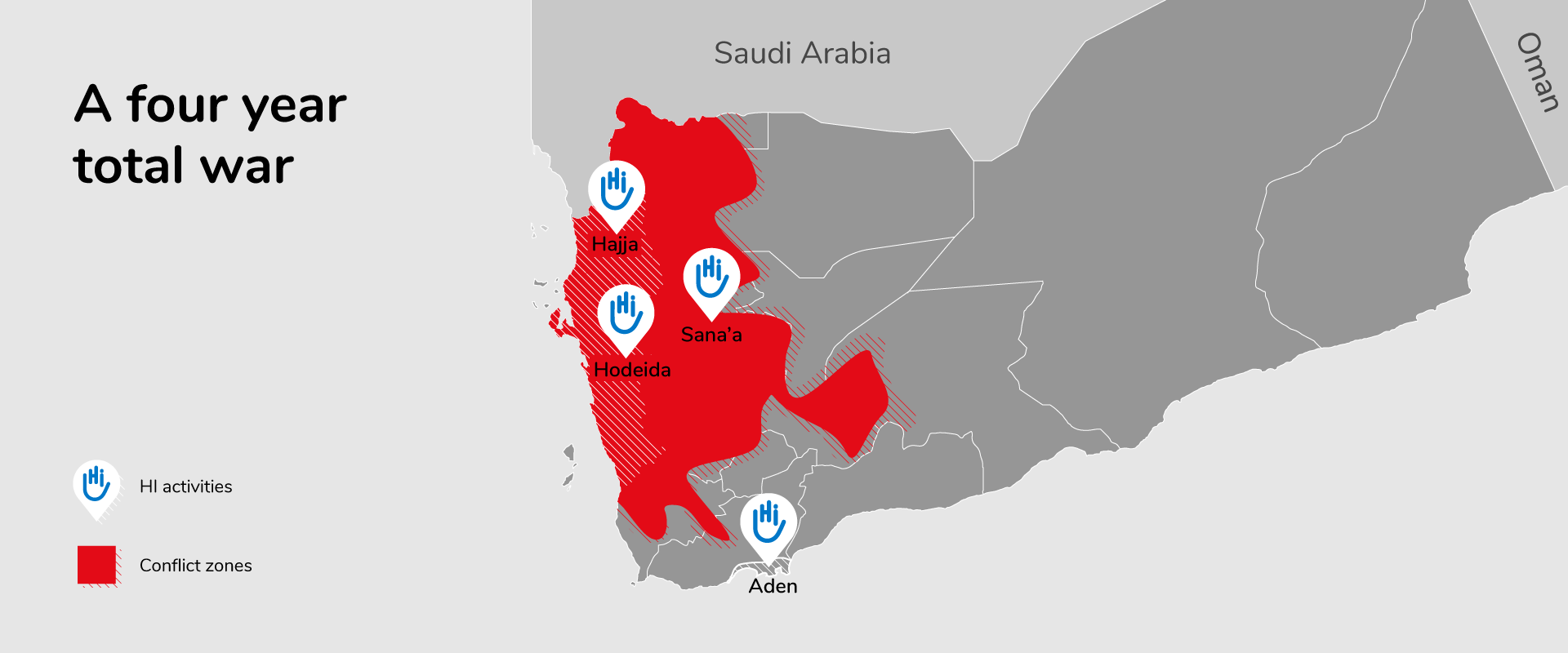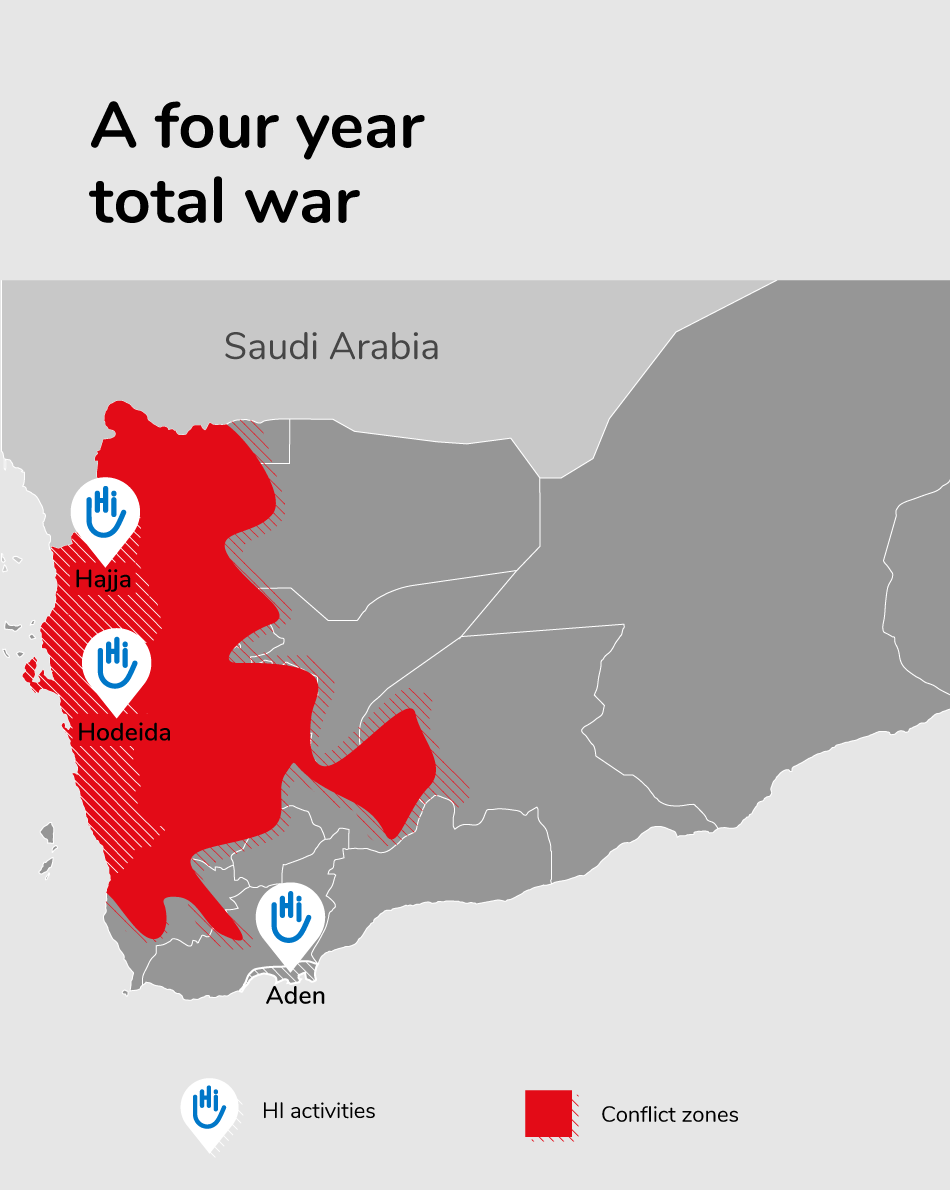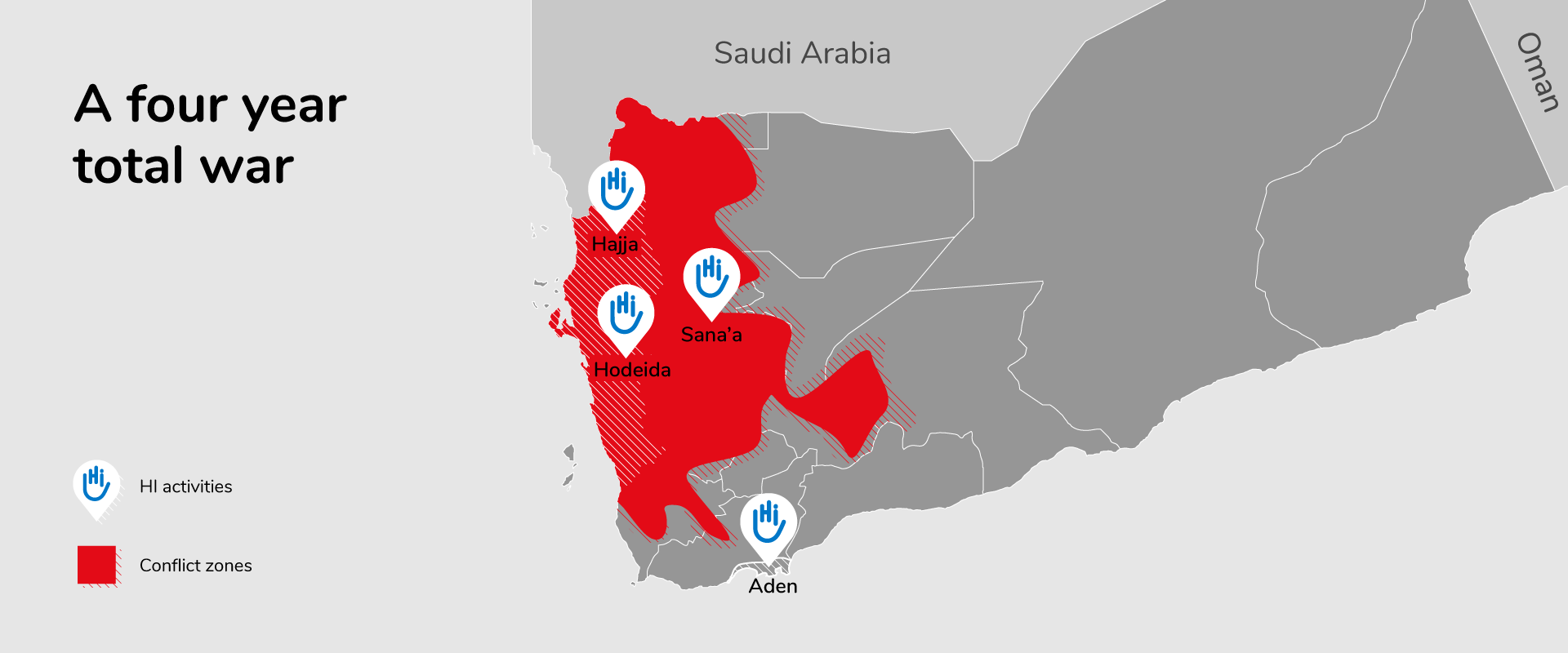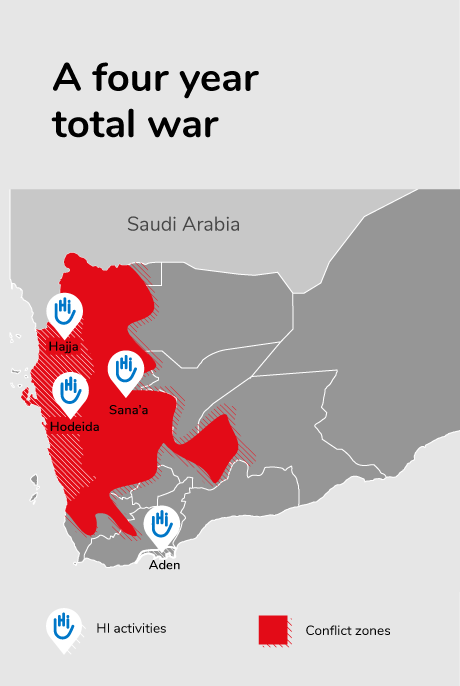 HI in Sana'a
Eighty HI staff members have been working in eight hospitals and two rehabilitation centres since 2015.
Rehabilitation sessions and advice: 20,000 people
Psychosocial support and counselling sessions: 20,000 people
Crutches, wheelchairs, etc. provided: 21,000
200 people fitted with prostheses and orthoses
700 hygiene kits distributed
500 medical staff trained in rehabilitation
Financial support for 600 households
Launch of HI's programmes in Aden, Hodeidah and Hajjah
HI is preparing to lead rehabilitation and psychological support activities in the governorates of Aden, Hodeidah and Hajjah.
Its teams will work closely as possible with the communities. HI will cover the cost of transportation to the hospital.

© HI
Emergency
Cyclone Mocha hit Bangladesh and Myanmar on Sunday, 14 May. Our teams are currently assessing the damage and needs in Cox's Bazar refugee camps.
© Cyclocane.com
Emergency
Mocha may hit the border area of Bangladesh and Myanmar on sunday 14th May. Concerns are very high regarding Cox's Bazar refugee camps, where 1 million Rohingya are living.
© Noha.K / HI
Emergency
Up to 300,000 Sudanese are expected to cross the border and will need humanitarian assistance. HI is prepared to aid refugees and host communities. Donors are urged to prevent disaster.
Humaniy & Inclusion Canada
50 Saint-Catherine West, Suite 500b
Montreal
H2X 3V4
Charity number: 88914 7401 RR0001