Helping Syrian refugees with disabilities
From 2014 to 2016, Handicap International provided support to Syrian refugees in Iraq. As part of its activities, the organization ran a regional project called "Syrian Disability Representation" (SDR), which aimed at fostering the emergence of Syrian representatives and self-help groups. Group leaders and members were trained to be able to provide support to refugees with disabilities and advocate for their rights.
Adnan and his familly | © E. Fourt / Handicap International
Over 80 000 Syrians have found refuge in Duhok (northern Iraq), since the beginning of the conflict in their country. Adnan, 47 years old, is one of them. He had to overcome tragic events before fleeing Syria. "I remember my life in Aleppo, back in the days", he says. "I had a good job, and everything was working well for us. But a few years ago, it all suddenly changed. I was captured and tortured for 40 days. As a result, I lost an eye and a leg and suffered from a stroke. Against all odds, Adnan managed to survive and to go back to his family. Later on, he left Syria with his wife and children.
"When I first arrived here, I felt isolated. I didn't have any friends and was still struggling with our new living conditions. That's when the SDR group reached out to me. They immediately offered their support and friendship. They helped me get some financial assistance and find work, so that I could provide for my family." This support-system also helped a lot of other refugees. A few years ago, Amr was injured in Syria and had to be amputated of both his legs. When he arrived to Iraq, he was living in very precarious conditions. The SDR group managed to get a proper accommodation in a camp, for him and his family. "The place we were living in had no walls, we had no roof over our heads. I was wondering how we'd survive when winter would come. Thankfully, the SDR group found a solution."
The Handicap International initiative encouraged Syrian refugees with disabilities to come together and help each other. "The SDR project was born out of a conviction: these people are the best placed to advocate for themselves or help their cause, because there's just so much we can understand about their situation, even as humanitarians" explains Tomas Bokor, Development Operations Coordinator for the organization. Various SDR groups were then set up across the country, over the years.
Amena who lives in a refugee camp in Iraqi Kurdistan, decided to join one. She suffers from a congenital disease preventing her to speak or to hear properly. The group helped her find the funds to undergo an important surgery. "Without them, it would not have been possible", she says. Khadija, a widow living with her four children, agrees. She also benefited from the launch of the SDR project in the camp. "When I met the group members, they immediately tried to help me. They managed to have me registered for a cash assistance program, which improved my family' situation tremendously."
The SDR project ended in December 2016. More than 950 people have benefitted from it, since its implementation.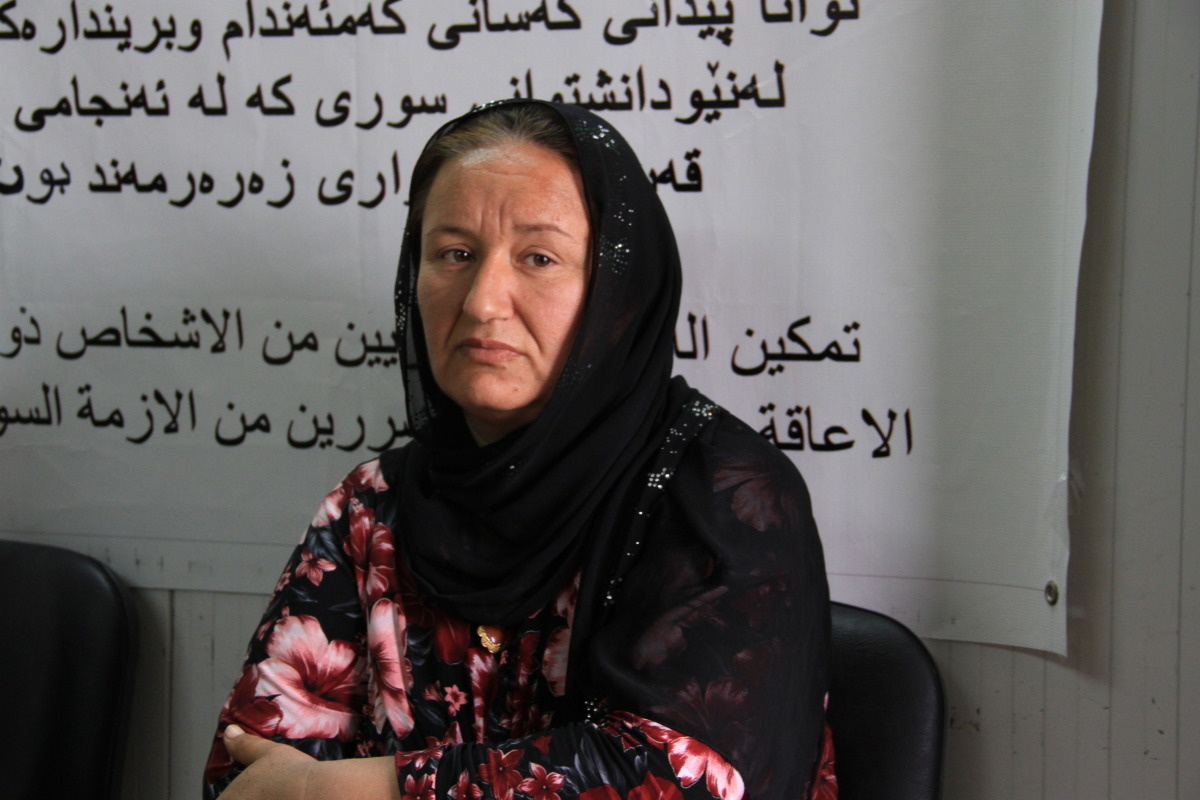 Amena. © Handicap International