Displaced by war: the story of Tamara and her son Mykhailo
Emergency
Rehabilitation
After the bombing of their house, Tamara and Mykhailo had to abandon it. Thanks to a temporary shelter in Dnipro and HI's services, they were able to get the help they needed.
Mykhailo Artamonov and his mother Tamara Artamonov moved to the Ocean of Kindness community center for people with limited mobility, advanced age and disabilities | © O.Marikutsa / HI
"Any noise sounds like an explosion."
First severely affected by Covid-19 a year before the beginning of the war, Tamara could no longer walk and remained bedridden for a whole year. Thanks to the volunteers on-site, she and her son were evacuated to a rehabilitation center in Dnipro after their house was hit by the bombing. Mykhailo Artamonov tells us his story.
" Volunteers evacuated us from Bakhmut. We asked them ourselves. Our house was hit by a missile. At that moment, I was riding my bicycle to a pharmacy, and was trapped under shelling. It's a miracle that I survived. Then I got back home and saw that there are no windows and there is smoke everywhere. I went into the house and saw deep holes in its walls. I thought that I had lost my mother, as she was home at the moment of explosion. Then I looked and saw her laying in the farthest room, in the safest place."
She survived. After that, we found some volunteers and asked them to evacuate us. We knew that we would go to Dnipro. That's how we got to the Ocean of Kindness collective center.
"Thank you for psychological support. People who came from the active war zones are afraid, any knock frightens them. Any noise seems like an explosion. It is very important to receive first psychological aid."
HI's teams have partnered with numerous temporary shelters, including Ocean of Kindness located in Dnipro, to bring rehabilitation specialists and specialists in mental health and psychosocial support to the residents and staff. HI's teams assist people displaced by war, but particularly elderly people with limited mobility and disabled people evacuated from risk areas. Grateful for the help she has received, Tamara Artamonova tells us about her situation.
"I started to walk again"
" We have been living here since November 30. We arrived from Bakhmut where my son and I had a private house. "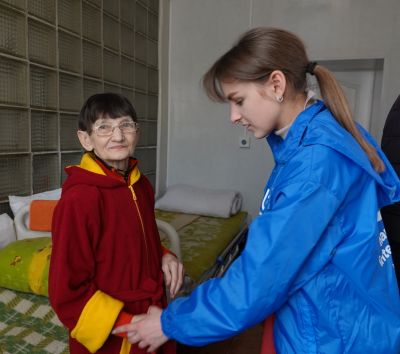 A year before the war, we all had Covid. My husband died from this virus. My son had a lighter form of it, and I was hospitalized for three months. I was brought home on a stretcher. I couldn't get up for the whole year, I couldn't walk. After evacuation, we arrived in Dnipro.
Here HI rehabilitation specialists started to visit us. Masha, HI's rehabilitation specialist started to train me and perform specialized exercises. I was bedridden for a year after Covid, so I lost 40 kilograms and am still unable to gain weight. In a month and a half of exercising with Masha, I finally started to walk.
An HI psychologist also visited us. She talked to us and helped us to relieve our stress. I couldn't sleep at night, I kept remembering what we've been through. Now, I'm feeling much better. I even come to the kitchen to help; I wash the dishes. I do this to express my gratitude to the people who accepted us here and saved us.
" I am deeply grateful to the rehabilitation specialists and psychologists who literally helped us to get back on our feet."