Helping Milagros live life to the full
In Colombia, HI is supporting Venezuelan migrants like Milagros. Our teams are giving Milagros rehabilitation exercises to help her become more independent.
Milagros doing rehabilitation exercises at HI's facilities in Riohacha, Colombia. | © J. M. Vargas / HI
Milagros Romero is three years old. She arrived from Venezuela two years ago with her mother, Gregory Josefina. They now live in Riohacha, a town in northern Colombia.
Helping Milagros become more independent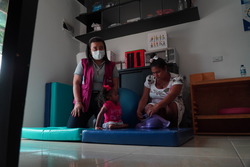 Milagros was born more than two months premature due to complications from her mother's high blood pressure. After her birth, because of a lack of appropriate medical services, she was not put in an incubator. Milagros contracted a disease and developed osteoarthritis in her leg joints.
Her knees and feet are now bent inwards and she can't use her legs. She crawls to get around and uses her hands to lift herself up and climb onto the furniture.
"I heard about HI from someone in my family. The first time we came to the centre, I could see that Milagros was happy to be here," explains Gregory Josefina.
At HI's facilities in Riohacha, Milagros receives specialist support. Yordanis Camargo, HI's physical therapist, gives her rehabilitation exercises to strengthen her upper body muscles and help her become more independent. She also uses a cushion to work on her balance and stability.
School, the key to her future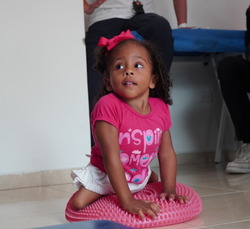 To ensure that Milagros receives the best possible medical care, HI is now going to refer her to specialists in orthopaedics and paediatrics. We also want to provide her with a wheelchair to make it easier for her to move around. Milagros lives in a house with a dirt floor and is at risk of injuring herself when she crawls.
A wheelchair would also make it easier for her to go to school. Milagros is a very bright and curious child. She approaches people and engages everyone in conversation. For her future to hold all the opportunities she deserves, she needs to go to school.
"Milagros is very smart: she is already using my phone to play games with numbers and solve puzzles. I want her to be able to study and I will do everything I can to make that happen," says Gregory Josefina.
This project of integrated protection assistance for Venezuelan mixed migration flows in South America and vulnerable population living in Venezuela and Colombia is supported by the Directorate-General for European Civil Protection and Humanitarian Aid Operations (ECHO).