Hidden and underestimated: How children with disabilities are breaking down barriers to attend school
In West Africa, millions of children don't complete their primary education and some have never been to school. Humanity & Inclusion (HI) estimates that a third of these children have a disability. Our inclusive education program runs in nine countries in the region and will ensure that 170,000 children have the opportunity to learn, play, make friends and feel valued in society.
© Erwan Rogard / HI
But why do children with disabilities find it so difficult to access their basic right to an education and what have we been doing to break down these barriers? The story of Samadou, an energetic seven-year-old boy from Tenkodogo in Burkina Faso illustrates the complexities behind a seemingly simple ambition – to go to school!
Hidden from view
The first challenge in bringing a child to school is to find them. Children with disabilities tend to be less visible in their communities and are more likely to be kept at home or to be missing from official records. There are many reasons for this but often a family is afraid of how a child will be accepted socially.
This was the case for Samadou, who has one leg much smaller than the other. Parents and children in his village referred to him by his disability rather than by his name. His mother was scared to send him to school and wanted to protect him at home.
This is why HI works in partnership with village representatives and civil society groups to help break down prejudices and create a supportive environment for children both in and out of school.
We have also been working with the government to improve surveying methods and national data collection so that we can understand the big picture of disability and education in Burkina Faso and find every child.
Lacking specialist care
When HI meets a child with a disability, they may not have accessed important health or social care for many years. Our priority is to make sure they are physically and mentally ready to attend school.
For Samadou, this means providing him with an adapted prosthesis so that he can walk to school independently and play football at lunchtime. For children with learning difficulties, negative perceptions of disability mean that families may underestimate a child and believe that they cannot or should not go to school. We challenge these perceptions and help parents to see what their child may be capable of, given the right support.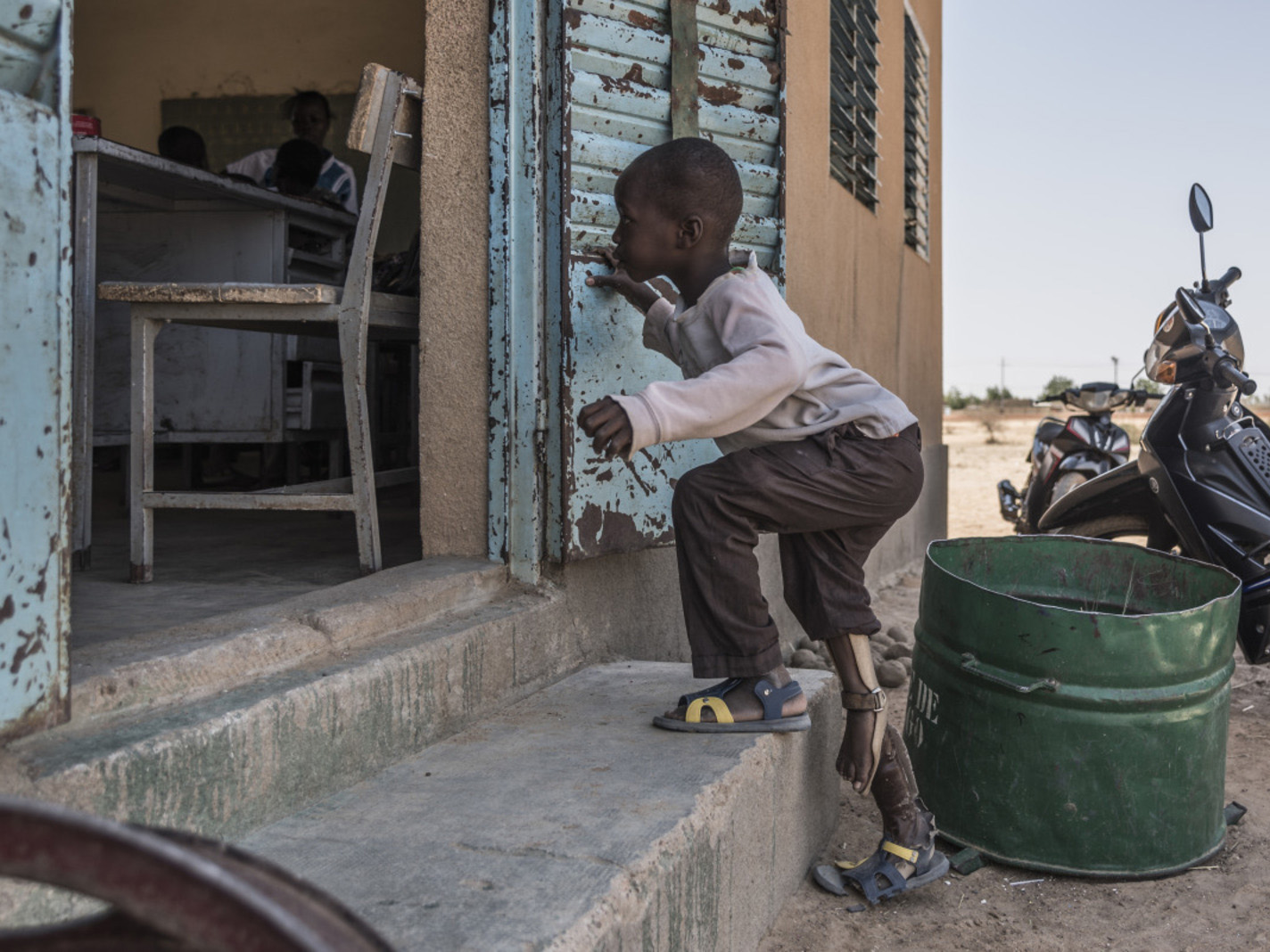 © Erwan Rogard / HI
Unaware and underequipped
Teachers are often anxious about accepting a child with a disability in their classroom, fearing that the child may need too much of their time and cause disruption for the other pupils. They may lack teaching strategies as well as the physical resources to make learning practical.
HI has made sure that there is an inclusive education module at national teacher training schools so that most teachers have a strong foundation in how to welcome a child with a disability. This is reinforced by a cohort of visiting teachers who have been extensively trained in providing one-to-one support. They are able to help children with visual or hearing impairments learn sign-language or braille, for example.
Samadou has been helped by a visiting teacher since he started attending his local school. Together, they have developed an education plan that is adapted to his needs. He is able to attend all of the same classes as his peers and is progressing well. Most importantly, he is involved in activities outside of school and can frequently be seen chasing lizards with his friends or speeding along on the back of his brother's bike!
The #school4all campaign
More than 32 million children with disabilities from low- and middle-income countries do not get an education. They are excluded from games, schools and all kinds of learning experiences.
Accessing education is their only chance to build a future for themselves. To raise public awareness of this major problem, HI has launched #school4all, a summer call for donations campaign.