"It is really inspiring to see the kids I help go to school and become successful"
Ambika Sharma has been working as a Prosthetist and Orthotist for more than 10 years. We recently sat down with Ambika to see what life is like as a P&O in Nepal.
Ambika, Prosthetist and Orthotist working with HI's local partner organization in Népal. | © A.Thapa / HI
What is the role of a P&O?
P&O stands for Prosthetist and Orthotist. It means I can make artificial limbs and assistive devices, but in reality, it is much more than this. In my role, I am involved with counselling, assessment, taking measurements for the prosthesis and then making it, but also repairing it, delivering it, making sure it is comfortable for the users, and following up with them on a regular basis.
Did you always dream of being a P&O?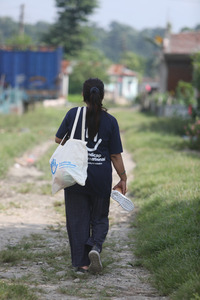 No, I did not think I would be doing this in my life. To be completely honest, I was not even aware this was a profession. It was only when I started working in a rehabilitation centre that I found about the demand for this skill.
Thanks to HI's support, I had the opportunity to take an academic P&O course in India. My studies made me realise the importance of Prosthetics and Orthotics in Nepal. There is such a lack of these services and I began to see how I could really make a difference. Then, I dreamed of being in this profession.
What's the best part of your job?
The compliments we get from the users and their caretakers are pleasing. That's enough to be satisfied with the work we are doing.
But seeing the difference it makes to a child's life is the most rewarding to me. These kids remember us for the rest of their lives. They realise what their lives would be like without their prosthesis, and how they would struggle to make it to school without it.
These days some of the people we support have started getting connected with me on social media. They also share photos with me there. Some even say I am like a sister to them now, which is really nice.
What's the hardest part of your job?
The hardest part is I feel like we are only able to help around 25 per cent of the people needing our service.
People come from all over and we feel everyone who visits us are in equal need. I don't want anyone to have to leave empty-handed but we simply cannot help everyone, unfortunately. That's really hard, I feel so guilty for not being able to serve them all.
In Nepal, rehabilitation services are extremely limited and there is very high demand. Our rehabilitation centre serves people from all over South-Eastern Nepal.
What is your message to HI's supporters?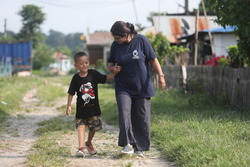 Running this centre would not be possible without HI's support.
People in Nepal are not economically strong and the people worst off are often deprived of the services they need. But your support helps these children to have a childhood like any other children of his age; to learn, to have careers, and bring positive changes to their health and their lives.
Every day, we make your donation count by utilising it to the fullest.
Thank you!