Laos: two submunition survivors tell their stories
Thirty years apart, two inhabitants of the same village in Laos were injured by submunitions. They tell us about their experiences.
Chue Por Vang, a 30-year-old Hmong farmer | © N. Lozano Juez / HI
Houaphan near Vietnam was the province that recorded the highest number of accidents involving explosive remnants of war in Laos in 2018. In the village of Houayhou, some residents have paid a heavy price, like Chue Por Vang, a 30-year-old Hmong farmer, and Kua Tcho Tor, 58.
Chue Por Vang, a 30-year-old Hmong farmer
When he was a teenager, Chue's left arm was blown off by a submunition on his way home from school. He was walking with his brother, he remembers, when he came across a device which piqued his curiosity. "It was a very small object, round, it looked like a small ball...". After the accident, his family ran up debts to pay for his hospital treatment, which they took five years to pay off. Today, Chue lives every day with one less arm. He is married and the father of four children. He is outraged by the presence of these unexploded ordnance buried deep in his homeland. "I'm angry," Chue says shyly. "My wife is the only one who can work the land, take care of our 14 cows and do everything at home. I help as much I can, but we depend on the land and we struggle to feed our children. Our family helps us a lot, but our lives are very hard."
Kua Tcho Tor, a 58-year-old farmer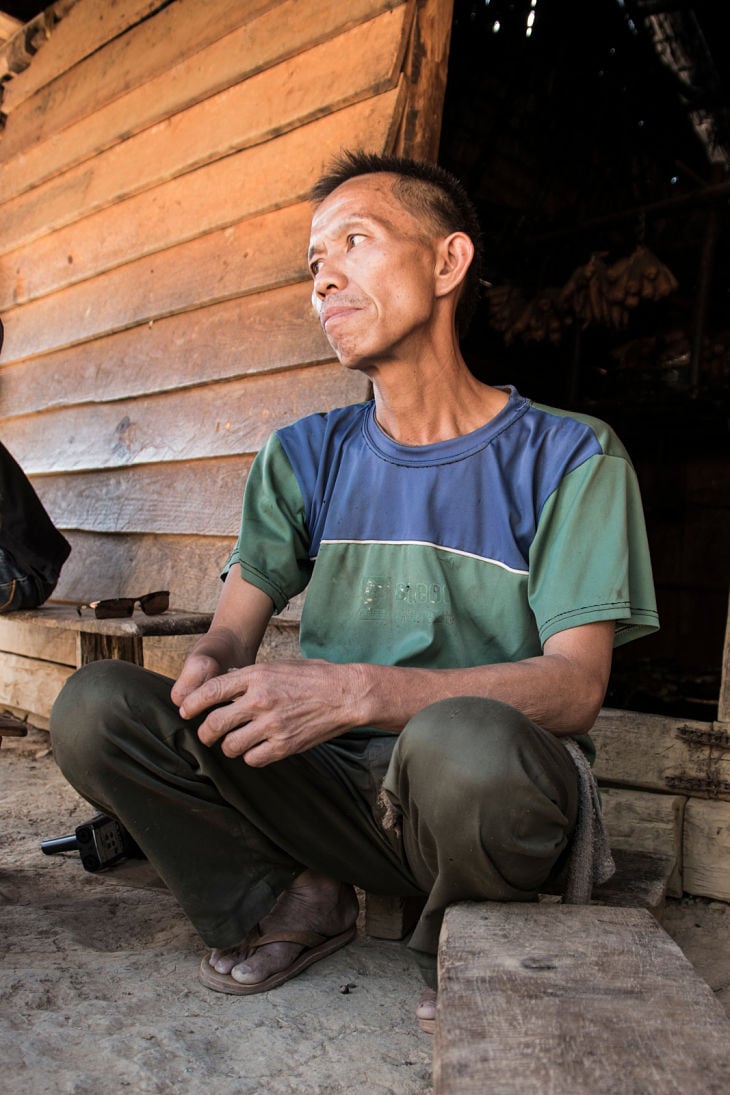 In the same village, Kua Tcho Tor, a 58-year-old farmer and father of six, also lost his hand at the age of 12 when a "bomblet", a submunition, exploded as he was helping his parents plant rice. Rushed to the nearest hospital, he only has a dim recollection of what happened next, but he does remember his family having to sell many of their cows to pay for his hospital treatment. "It was the end of the Vietnam War, but we didn't know anything about bombs and mines at the time. We weren't very wary," he explains.
"My life has been very hard. No one helped me except very close family. Today three of my children are already married. Without my family and my son who does everything on the farm and takes care of us, life wouldn't be worth living. I'm very proud of him!"