Providing support where needs are the greatest
Emergency
Rehabilitation
Across Ukraine, HI is supporting displaced persons and hospitals where needs are greatest.
In a hospital in Lviv, HI emergency rehabilitation manager Virginie Duclos provides specialized training to care for a patient burned by explosive weapons in the ongoing conflict | © HI
HI continues support for victims of armed violence
In a hospital in Lviv, HI has been intervening to support the care of incoming patients, including burn victims and amputees from armed attacks in Ukraine.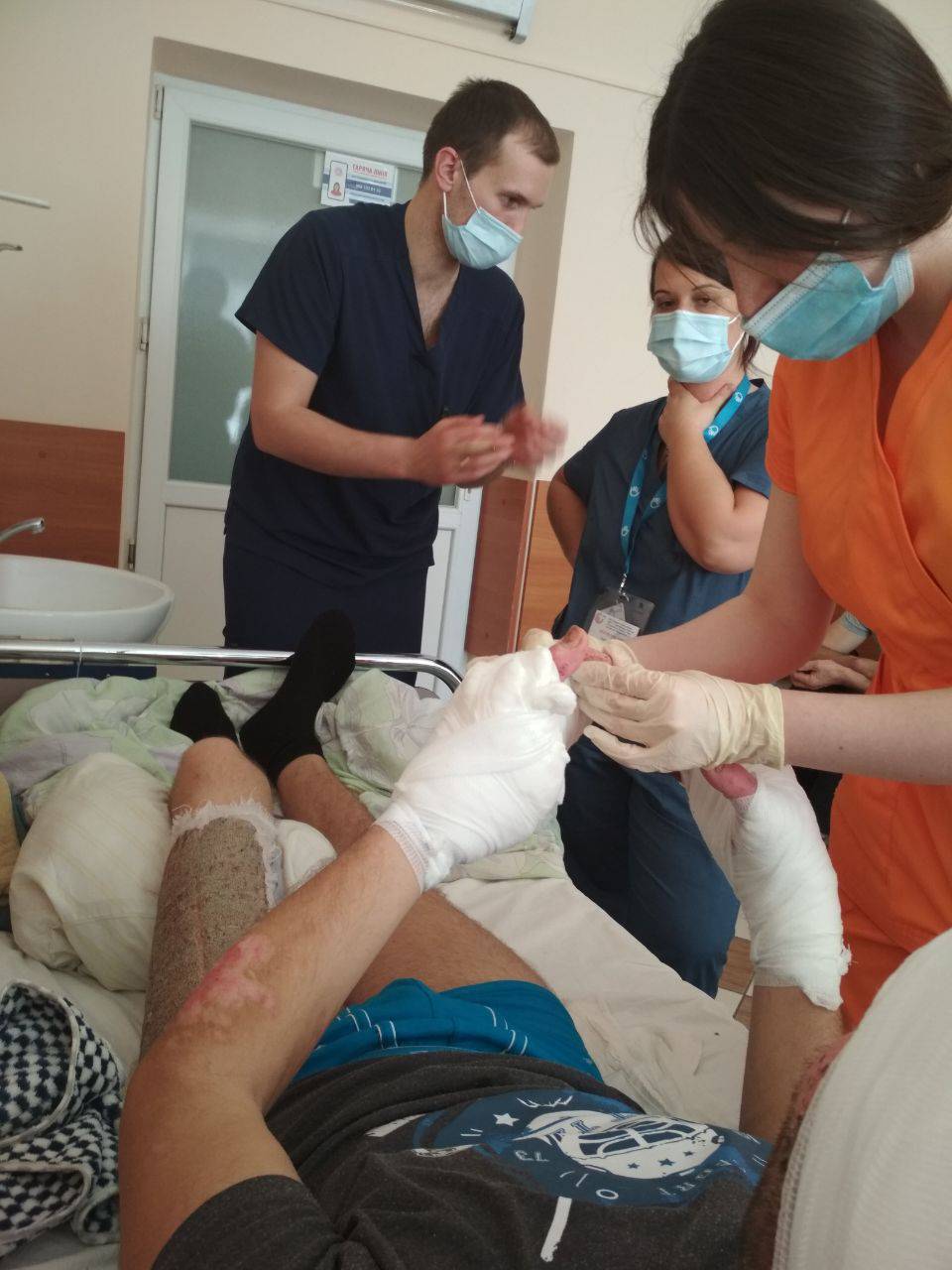 "The number of patients with burns and amputations are increasing around the country," says Virginie Duclos, HI emergency rehabilitation manager.
Virginie has been providing technical support and specialized training to therapists and students in physical therapy and ergotherapy, who have volunteered to support the growing number of patients.
"There is a great need for more rehabilitation workers in the hospitals," Virginie says. "Today, nearly everything depends on the efforts of volunteers- from treatment to supplies."
The trainings focus on treating burns and post-operative amputations, as both require specific and specialized care to promote healing and prevent long-term functional problems. In the coming days, Virginie will move east to Dnipro to provide further trainings and support care where needs are greatest.
The United Nations reports more than 4,300 civilian casualties since February 24, including nearly 2500 people injured in the conflict. Actual numbers are expected to be much higher than the official estimates.
HI is also providing administrative support to the overwhelmed hospital staff by setting up patient files to improve follow-up and care of individuals with needs in multiple disciplines.
Specific needs in collective centers & institutions
In the East of the country, heavy bombing is ongoing and needs are significant. HI is actively supporting collective centers, institutions and other facilities housing affected families, such as underground shelters and metro stations.
"In Dnipro, we received word about a collective center hosting elderly people and persons with disabilities who have been displaced," says Fanny Mraz, HI's emergency director, present in Ukraine. "People are traumatized by the shelling and bombing. They had to leave their homes in a hurry, leaving behind their life, belongings and their mobility aids. One older woman coming from the Donetsk region could not bring her wheelchair with her because the person that brought her asked for money to bring it, and she could not afford to pay. She is now moving with a lot of difficulty, using two old walking sticks."
Both the residents and staff are in need of support.
"The director of the civil society organization running the center is tired and starting to present signs of psychological distress from seeing the conditions of people arriving," Fanny says. "Mobility and hygiene management are the two greatest concerns in the center right now. The director also wants to do some simple renovations to improve accessibility, but she is unable to afford the costs."
In the past week, HI has donated 130 hygiene and mobility aids including wheelchairs, walkers, walking sticks, crutches, toilet chairs and bed pans to three institutions and two collective centers in Dnipro and Kharkiv. People will be able to take the devices with them when they leave and HI will continue to provide items to the center as needed. HI is also planning to financially support the organization to help fund accessibility renovations in the bathroom and contribute to staff salaries. Additional support in hygiene, mental health and psychosocial support are also underway for the facilities.