Sayed: "I can play with my friends again!"
Explosive weapons
Rehabilitation
Sayed is a six-year-old boy from Afghanistan with an irresistible smile. When he was five, he was injured by an improvised mine – one of many victim-activated devices that regularly kill and maim people in Afghanistan. After Sayed's left leg was amputated, he was immediately treated by Handicap International and he is steadily regaining his autonomy.
© JAWEED TANVEER / HANDICAP INTERNATIONAL
Sayed is lying on his bed, playing with a helicopter, at the Kandahar rehabilitation center. Although his father, Mohammad, shows a lot of affection towards his child, his words are more guarded: "Sayed used to play a lot with other children and his brothers and sisters, but the accident had a big impact on his life, and ours."
Mohammad still finds it hard to open up about the past. In 2014, as he and his son were returning from Mugar in a minibus, it hit an improvised mine, killing four passengers. Sayed suffered injuries to both legs. Although he was operated on immediately, his recovery did not go as well as planned. His health deteriorated to such an extent that he had to have his left leg amputated to save his life.
"We were really worried after his amputation," Mohammad explains sadly. "People said he'd be a burden to our family because he needs us or his brothers to help him move around."
THE ROAD TO SELF-RELIANCE
The boy's family was immediately referred to Handicap International's physical rehabilitation center in Kandahar. Opened in 1996, the center is one of the country's leading facilities for the care and treatment of people with disabilities.
In Autumn 2014, Mohammad and Sayed made the 155-mile journey between their village and Kandahar. "We began with some exercises to stimulate Sayed, to strengthen his muscles and to show his father how to help him," explains Mahmood, his physical therapist. "Sayed was very weak, but after we gave him a walking frame he gradually learned to move around by himself again."
Mohammad and Sayad made the tiring journey several times, and Sayed made steady progress, Mahmood says. Sayed was fitted with his first prosthesis at the end of 2014. Assisted by his parents, he continued doing his rehabilitation exercises in his village.
Sayed has since grown a lot, and he's back in Kandahar to be fitted with a new artificial limb. After seeing Mahmood, Sayed is taken to meet a technician called Khalilurahman, who measures his stump for the cast he'll need to make the new prosthesis.
Once his new prosthesis is ready, Sayed tries it on in the center's large exercise room under his father's watchful eye. Khalilurahman checks to see if he needs to make any adjustments to the prosthetic leg. Without a word of complaint, Sayed tries it on and he can walk normally almost immediately.
Sayed will need to return in six months to have his artificial limb adjusted again. With help from his family, he'll continue his exercises at home to strengthen his leg muscles.
When we ask him how his prosthesis has changed his life, Sayed says shyly: "I just wanted to play with my friends again, and my brothers and sisters—that's what I like best. Now I've got my leg, I can. I'm so happy!"
His son's smile has restored Mohammed's faith in the future. "I'm the only one who works in my family. We don't have much money and our village is far from anywhere, but I want my children to have a better life when they grow up. With help, Sayed's self-reliance and confidence are going to grow. He can already walk unaided, and he'll soon be able to go to school! If he gets a good education, I'd like him to become a doctor," Mohammed says with hope in his voice.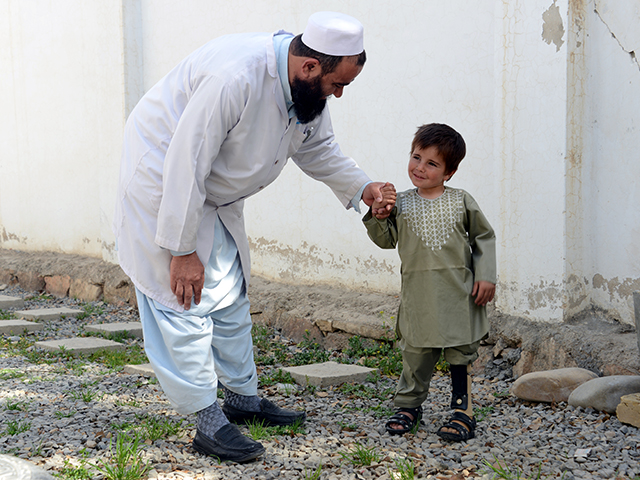 © Jaweed Tanveer / Handicap International