Worst floods in 15 years, HI on high alert
As floods and landslides have hit Nepal over the past five days, the death toll has reached 123 dead and at least 35 people are missing. The southern part of the country is the most affected. Thousands of houses have been inundated across the Terai province; 80% of the arable land has been destroyed. 600,000 people are affected by the worst floods in 15 years in Nepal. Handicap International's (HI) local teams are evaluating how we can help.
This image reflects recent floods that have affected the la province of Teraï in Nepal | © Forum for Human Rights and Disability
Hundreds of thousands of people have been forced to leave their homes, threatened by a sudden rise in water levels across the country. Heavy rains are still expected in the coming days... 123 people have been killed. The death toll is likely to rise, and hundreds of thousands of people need emergency assistance.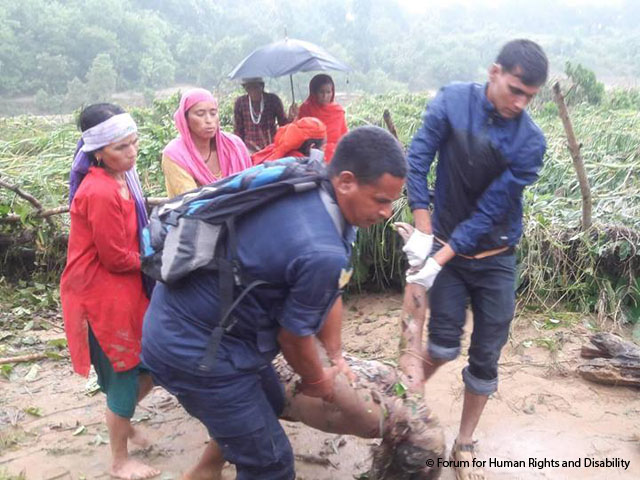 Displaced people have been suffering from various infections due to contaminated drinking water and environmental pollution caused by the floods. Water borne diseases, fever, common cold, gastritis, conjunctivitis and skin infection are common among the flood victims. Children, women, older people and people with disabilities are particularly vulnerable to disease and food shortages.
Floods also caused the loss of material goods, the destruction of homes and the displacement of people to temporary shelters.
Handicap International has been present in Nepal for 15 years, with around 80 staff. It responded to the needs of the victims of the earthquake that struck Nepal in April 2015, which killed more than 8,000 people and injured 22,000 others.
Handicap International is currently working on a joint intervention with Christian Aid in two of the most affected districts. The intervention will include Non Food items distribution, like hygiene kits, shelter and unconditional cash transfers, in close collaboration with the Government and local stakeholders.
Flooding caused extensive damage to houses and farmland in rural districts. "Handicap International is committed to provide assistance to the most vulnerable population affected by the floods in close coordination with local authorities and other humanitarian agencies", says Willy Bergogne, HI head of mission in Nepal.