"I just want to live in dignity with my family"
"I have all the strength in the world!" This is how Khaled, a four-and-a-half-year-old ball of energy, welcomes HI's team to his home.
Esra (centre) just wants her children to be able to live with dignity and go to school. | © Saleh Aliwa- H.I.
His family is originally from Syria and is now living in Zarqa, Jordan. Twelve years after the start of the conflict, there are still some 660,000 registered Syrian refugees in the country.
Fleeing to Jordan
The family lives in a modest flat in Azraq, about 30 minutes from Amman, Jordan's capital. We meet Esra, the mother, Sheima, the 13-year-old sister and Khaled. The father is at work.
Esra and her husband fled Syria in 2013. She was newly married and pregnant with her first child. They had to walk a long way to avoid the combat zones before crossing the border. They stayed in the Zaatari camp for a while, before settling in Zarqa.
"We can never forget; it will stay with us forever. Even today, when I hear a plane or gunfire (celebrations can be accompanied by joyful gunfire, editor's note), I am afraid" Esra Said.
Psychological support could have helped Esra overcome her trauma, but the only session she ever attended was more like a lecture than a real exchange. She never repeated the experience.
Daily life
Then Sheima was born, followed by Khaled. The family lives modestly. Syrian refugees have very limited access to employment in Jordan. Esra's husband is a day worker. Today is a good day; he was offered work. Some days are not so good...
In fact, everything is more complicated for these exiles, from finding enough money to support their families to accessing education and health care. Khaled, for example, suffers from cognitive problems. He has difficulty focusing his eyes and attention. Thanks to Yasmeen, a volunteer from HI's community-based rehabilitation project, he has received the support he needed and should soon be able to start school.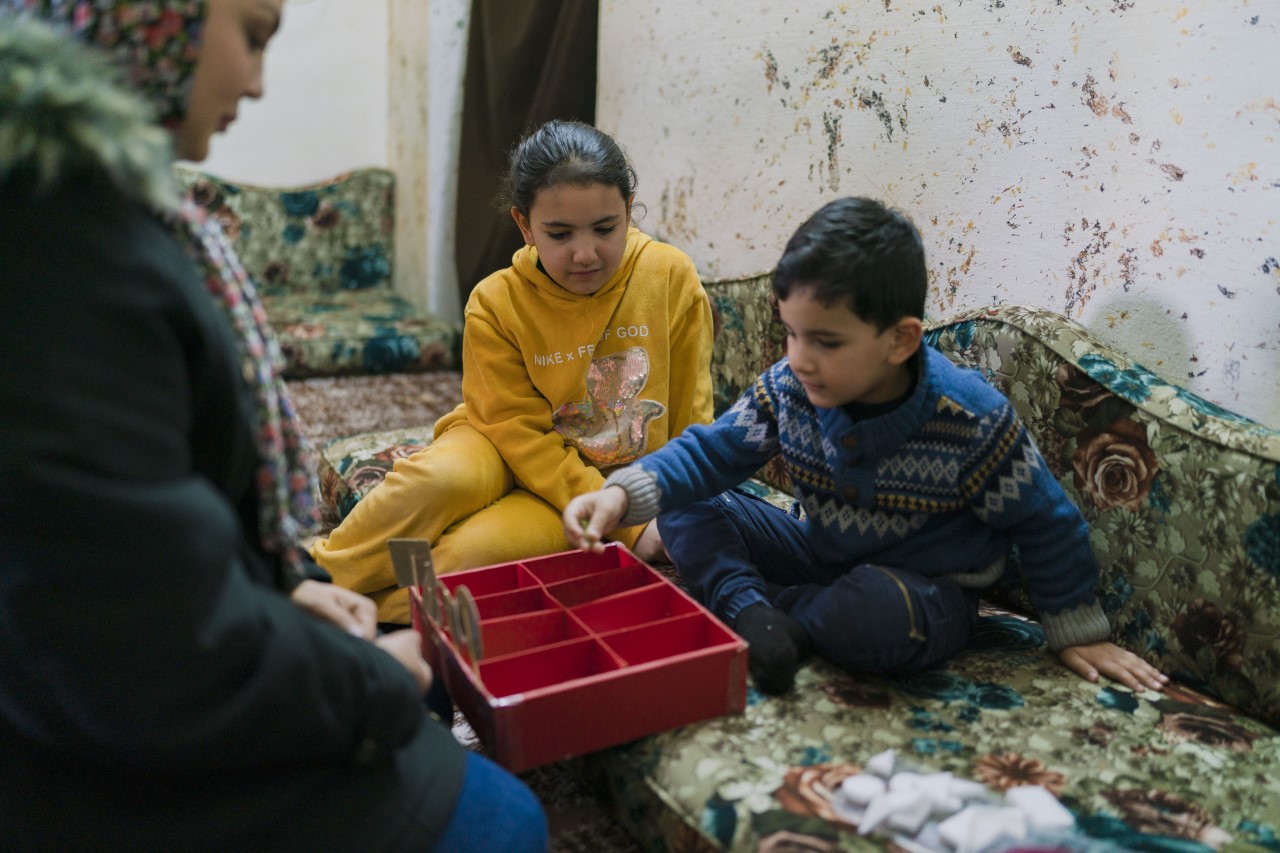 What does the future hold?
Over 660,000 Syrian refugees are currently registered with the UNHCR in Jordan , a country with a population of 11 million. Hosting such large numbers of refugees places enormous pressure on the country and the host communities. Several attempts have been made to facilitate their return home, without success.
Today, Esra does not see a future for herself or her family in Syria.
"There's nowhere for us to go back to. Our house was destroyed. And even if it were still standing, right now it's complicated."
Some of the refugees who have made their way back have been worried or even arrested by the authorities. And even if life is not easy in Jordan, in Syria a majority of the population lives below the poverty line. Today, 12.1 million Syrians are food insecure .
"There are no livelihoods, no services for children, no security there," adds Esra.
The children, on the other hand, don't dream of a country they've never known. What do they want? A playroom or a place to play outside. Esra, for her part, has the same hopes as every other mother in the world:
"I just want to live in dignity with my family, in a safe place, and for my children to be able to go to school."