"Impossible is not Oumou"
I'm Oumou Khayri Diop. I'm 27 years old and I live in Senegal. I'm general secretary of the Association Handicap Form Educ, a partner of HI. I'm a carrier of voices: I denounce the problems and advocate for the rights of women with disabilities.
Oumou Khayri Diop during the workshop gender and disability in Saly, Senegal, in February 2022. | © Fran6Concept / HI
I was a brilliant student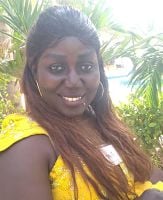 I had a difficult childhood because I lost the use of my legs when I was just ten years old after an illness that completely changed my life. It wasn't easy adapting to my new life and coming to terms with the changes. Fortunately, my parents didn't give up on me: they did everything they could to see me walk again one day.
I almost quit my studies, but with the help of my parents, my friends and my teachers, I found the motivation to carry on. I was a brilliant student, always the top of my class. But then I was then sent to a high school where the classes were held on the upper floors … and accessibility was a real problem.
My parents enrolled me in a private high school so that could continue my studies. I had to go miles in my wheelchair every day to get there.
A year later, I lost my mother. That was a terrible shock for me. Her words of comfort, advice and love were what had motivated me and driven me to keep studying. But I passed my school-leaving certificate and went on several training programmes. Today, I am an accountant and retailer, and I have qualifications in project management, electronics and mobile phone repair and office automation.
A deeply ingrained engagement
I'm young and disabled. We women with disabilities suffer more violence than other women, but people overlook us. So I decided to commit to this cause.
I'm involved in several associations. I'm general secretary of Association Handicap Form Educ, for example, which is a partner of HI, and president of the women's association in my neighbourhood.
I'm also the treasurer of a young leaders group that I created after attending a training course in Dakar where I learned lessons that I wanted to share. With a friend of my mine who has visual disabilities, we set out to identify all the young disabled people in Senegal, whatever their disability. There are now a hundred of us in the group.
Things have changed because we are determined and motivated
If things are to move forward, there has to be a change in mentalities, an end to certain customs and to discrimination. Here, men have more power than women. Men think that women's place is in the home. They should be looking after the children, and cooking and cleaning. The important decisions are always taken by men, whether at home or at work.
Fortunately, things are changing. In the past, we didn't dare fight for certain causes, such as an end to gender-based violence. We didn't dare speak out on certain issues in the media, apply for certain jobs, study beyond a certain level or even travel. Now we see women graduates holding very important positions. There are programmes in the media with women journalists publically denouncing these same issues. Women travel all over the world, create jobs, are advisers, members of parliament, and so on.
I see some very committed, motivated women. They promote causes, create groups to develop their activity and organise themselves to get the training they need.
We must keep raising awareness, take part in radio and television programmes, hold talks in schools and neighbourhoods, at women's meetings and maybe even men's meetings.
We have some great projects: help us to realise them!
We look to our partners for long-term support. We want HI to accompany us in our projects, through training, job creation - anything that will improve our lives. We have some very important projects, but we lack the means to implement them. We also need HI to carry our voices to places where people can't hear us.
HI should also go to the most remote villages in Senegal to help women with disabilities who lack the means and tools to communicate. These are very committed women - fighters. Women who want to show what they're made of.
Believe in yourselves and we can move forward
To all women, I send the following message: believe in yourselves! We are mothers, sisters, and the world can't develop without us. Let's join hands and denounce all the injustices that are holding us back in life. We must all believe that change is in our own hands. We can't let ourselves be dragged down. We must denounce injustice with all the means at our disposal. If we establish this momentum, then we will be buoyed up by a new mentality and I think the fight will be easier for all of us.
We, women with disabilities, are the voice of mothers, women, disabled people, citizens – we are the voice of leaders.