"Where a man can run an association, so can a woman"
My name is Khadidiatou Ba, I am president of the Women's Committee of the Federation of Associations of Persons with Disabilities in Senegal. We have a long history of working with HI in the field.
© Fran6Concept / HI
Including everyone is imperative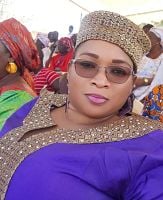 I am a specialist in disability rights since completing an international training programme on the Convention on the Rights of Persons with Disabilities. I'm engaged in all activities concerning people with disabilities.
Due to economic violence, disabled women are often poor. Economic violence is when you can't go to school because of barriers to access and then you can't find work because you have no qualifications. It is when a whole system fails to prepare you. I encountered accessibility problems myself during my studies. To start with, my mother didn't really want me to go to school; she was worried that I'd fall over in the street. Because of my disability, I walked with crutches. Later, accessibility issues prevented me from attending Cheikh-Anta-Diop University in Dakar.
An ideal society is an inclusive and violence-free society that leaves no one behind. A country's development is measured by what is happening at the bottom of the ladder. If Senegal or any other country leaves people with disabilities to beg in the street, then it is not developed.
Making disabled women visible
Women with disabilities are very active in our associations. Yet they are often absent from the decision-making table. This is why we are pursuing our awareness-raising activities - to become part of the decision-making process and run the associations ourselves. But it's a slow process.
I think that women – with and without disabilities – should join political movements. If we were involved in politics and were members of the decision-making bodies, no one could speak in our stead. Today, we must ensure that inclusion is a priority in all policies. In the past, the approach was charity-based; today, it is rights-based calling for policy measures.
We need this because we are at a point where people with disabilities must advocate for themselves and speak out about their problems so as not to be overlooked.
For my part, I am an active member of an opposition political party. Thanks to my background and achievements, I now represent the women of this party nationally. This is a source of pride for me and I also see it is an example for my peers to follow.
The synergy of causes is essential
Where women without disabilities suffer violence, we suffer twice as much: verbal, economic and sexual violence… Women without disabilities must adopt inclusion and support us. I often say that to win a fight, we need synergy of action with all the other organisations. This is how we obtained parity and the criminalisation of rape.
We have to be willing to denounce violence because there are many taboos in Africa and some things are never mentioned. When a close relative rapes a disabled person, nobody talks about it. Society needs to change its mentality with regard to violence against women. We need more promotion of legislation, more advocacy, to bring about change in these practices.
The role of partner associations like HI is to support us in this fight. We have a long history with HI. Ever since I joined the disability movement, HI has been on the ground working alongside us. Its role is to accompany organisations of persons with disabilities and accompany disabled women who are victims of violence. Support them, train them and equip them.
Finding role models
I draw strength from knowing that the next generation is waiting in the wings. We know that as long as the world exists, there will be violence. So we must never give up the fight. We must train young women with disabilities so that we leave activists behind us who are truly capable of advocating for change.
I want to encourage girls, especially girls with disabilities, to find mentors among disabled women. There are many women with disabilities who are examples to follow.