Awa has joined the fight against the genital mutilation of young girls
Awa is raising the awareness of young men and women to sexual health issues in Kolda, Senegal. Her objective? For everyone to have access to the information and the health services they need.
Awa Diassy is a peer educator working on the ENSEMBLE project in Senegal | © A. Faye / HI
Awa Diassy is a peer educator for ENSEMBLE, a sexual health and reproductive rights project. She educates and trains other young people in the Kolda region of southern Senegal by relaying information on these subjects.
Speaking on behalf of those who suffer in silence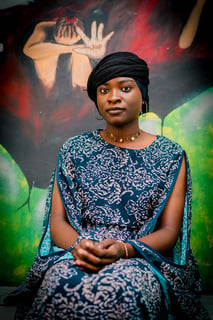 In 2017, Awa joined HI's partner in the ENSEMBLE project,the Conseil Ado centre, which provides advice and guidance to young victims of violence. Here she received training in sexual health, communication, leadership and personal development. With the knowledge and skills she acquired, she set up a girls' club in her neighbourhood. She organised numerous activities and, thanks to this experience, became a peer educator.
"I joined the centre because I wanted to take part in the fight against female genital mutilation, of which I myself am a survivor. In 2010, I saw that my little sister had been excised. The mutilation went badly wrong: she haemorrhaged and almost lost her life. That's what motivated me to join the centre. I told myself that I had to do everything I could to ensure that our little sisters, and all the little girls who come after us, never suffer the same fate. As a survivor, I can go out and talk to parents about the consequences of this practice."
As a young female leader, Awa eventually managed to talk to her grandmother, who had different ideas about the practice and had at first totally refused to discuss it with her. It took a long time, but Awa eventually managed to change her mind.
"I've also been able to do activities with young girls, who encounter a lot of problems in the community. Most of the girls are victims. To solve this problem, we need to put them in the spotlight. Many girls suffer in silence; I have to speak on behalf of those who don't have the chance to express themselves."
Awareness-raising is paying off
As part of the ENSEMBLE project, HI has trained 40 peer educators in sexual and reproductive health. In turn, they raised awareness among 1,098 young people in the Kolda department over the course of a year.
"In our communities, there's a breakdown in communication between parents and children. Young people lack information. Today, my duty is to go out there and raise their awareness, inform them about the consequences of early marriage, early pregnancy and female genital mutilation," explains Awa.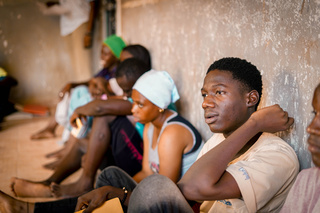 For her, it's imperative to help young people to understand that they have the right to go to hospital and to access health services. Today, many young people have started going to centres and spaces for teenagers to obtain the information they need on reproductive health.
Awa is also committed to helping young girls learn about and adopt good menstrual hygiene, and avoid sexually transmitted infections. And she advocates on behalf of girls living in more remote villages, so that the activities offered by HI and other organisations are also available in these localities.
"Girls have understood that they have to take center stage. We're the ones who can break the taboo that persists between our parents and ourselves. We also have to show young boys that we have confidence in ourselves and that we're ready to make a difference. We want to have access to decision-making bodies and make our own decisions," concludes Awa.
Launched in 2020, the ENSEMBLE project (Education necessary for equitable sexual and reproductive health in order to take control of one's well-being and be free to make one's own choices) aims to improve access to sexual and reproductive health services and related rights, with a focus on women and adolescent girls, including those with disabilities. The project adopts a social and behavioural change approach based on the active participation of beneficiaries and a gender-based analysis, including excluded groups such as people with disabilities. Funded by Global Affairs Canada, it is also being implemented in Togo and Côte d'Ivoire, in partnership with CARE Canada.
To date, the ENSEMBLE project has achieved the following results:
207 community dialogues organised
262 community health workers and peer educators trained
2,382 beneficiaries of contraception services
23,635 people who have benefited from awareness-raising
3 countries covered: Togo (maritime region), Côte d'Ivoire (Gbeke region) and Senegal (Kolda region).