Being a physio is a profession that pushes you to do your best every day
Paul Lokiru is a physiotherapist: every day, he helps patients regain their mobility and self-confidence. In the refugee camps where he works, the needs are immense.
Paul Lokiru, HI physiotherapist in Uganda. | © Crolle Agency / HI
Paul Lokiru, 32, works as a physiotherapist for HI in Arua, north-west Uganda. Physiotherapy allows him to care for and help people who are really in need. Learn more about his daily life with refugee populations.
What motivates me is the ability to make a real difference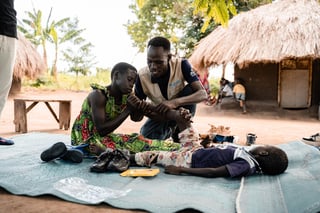 When I was younger, I didn't know what physiotherapy was. I became a physiotherapist pretty much by chance, when I applied for a training grant at a hospital near where I lived. In 2018, I had the opportunity to join HI on a short two-month contract – and five years later, I'm still here!
For me, physiotherapy is a real source of inspiration. It's a job that pushes you to do your best day and night. You meet people who really need you, and by helping them, you can see the difference you bring to their lives.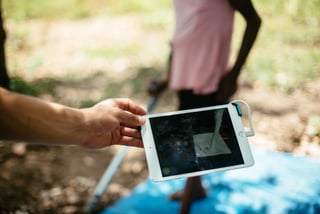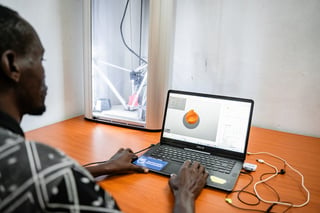 A few years ago, HI launched a 3D prosthesis and orthosis printing project in Uganda. I've been involved since the beginning and it's been a real eye-opener for me. 3D technology speeds up our work and allows us to produce a greater number of different devices faster, which then allows us to help more people. I think this project will continue to develop and attract commitment from all those involved in this field. For me, this new technology is bringing radical changes for rehabilitation services in Uganda: the more it is deployed, the more it will bring people into contact with rehabilitation services.
The rehabilitation needs are immense
In the refugee camps where I work, the rehabilitation needs are immense. There are very few stakeholders involved in this field, and even fewer when it comes to providing suitable orthopaedic fittings. HI is the leading association offering rehabilitation services, so we are inundated with people who need our help.
I work with refugees, so I see people who have travelled thousands of miles to reach safety in a foreign country. These people face many problems and major trauma, either during a conflict or on their journey.
Unlike a hospital where most people know why they're there, few refugees know anything about rehabilitation. It sometimes takes time to convince them and teach them about its benefits. Every time I meet someone, I take the opportunity to inform them about the benefits of rehabilitation.
I'm so happy when a child starts walking again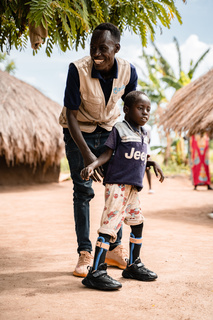 When I first met Kennedy in 2020, he had been living with his mother and two other children in the Rhino refugee camp since 2016 after fleeing the conflict in South Sudan. Kennedy is a little boy with cerebral palsy. At the age of five, he had never had any physiotherapy and could not speak, stand or walk. In November 2020, HI gave him two 3D-printed orthoses.
With my help, Kennedy first learnt to move around using a walker – the first radical change for this little champ! I then taught his mum some physiotherapy exercises so that she could continue working with him on her own. I visited them from time to time, but the area is vast, with many needs, so we cannot regularly follow up on all our patients.
By passing on this knowledge to the family, we allow continuity of service, even when we're not there. Kennedy is a prime example of this: his unwavering determination has produced a real miracle. When I came back to see him a few months ago, I noticed that he could walk on his own without needing his walker! It's a huge success for this little boy and I'm so proud of him.