Colombia: land freed of mines, lives freed of fear
Since 2016, HI has been running demining operations in the department of Cauca. Today, the region around the municipality of Inzá is mine-free. The communities are resuming their activities in safety.
In the humid region of the Inzá Mountains, a deminer carries out mine clearance operations in a contaminated area. Cauca Department, Colombia. | © J.M. Vargas / HI
Between 1990 and September 2022, 12,200 people fell victim to explosive devices in Colombia. After Afghanistan, Colombia has the second highest number of mine victims in the world. Mine clearance and victim assistance are therefore vital activities, allowing the population to reclaim the land, boosting the local economy and helping to rebuild the social fabric. They are also enshrined in the Ottawa Mine Ban Treaty, which marks its 25th anniversary this year.
The municipality of Inzá is now mine-free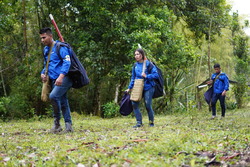 In July 2022, HI declared the municipality of Inzá in the department of Cauca free of landmines, explosive devices and unexploded ordnance. Over a period of two years, the organisation conducted demining operations in eight locations and made safe more than 13,600 square metres of land – land that has now been released back to the region's 27,000 inhabitants. In total, HI has surveyed almost 900 km² for the potential presence of contamination.
"We hope that the 870 km² of land we surveyed will contribute to the construction of a more equal society, to social development and to the development of ecotourism in the region," explained Arturo Bureo, HI's Director of Operations in Colombia, at an event organised to mark the land's release back to the communities. "And above all, we hope that the decontamination of Inzá will benefit the indigenous and peasant communities that live there."
In addition to clearance operations, 45 mine-risk education workshops were organised over these two years. During the survey and field analysis phase, 5,944 families attended mine risk education sessions.
Restoring the confidence of the inhabitants
In Inzá, indigenous and peasant communities have long had to contend with the threat of mines and improvised explosive devices left over from the armed conflict.
Diana Milena Pacho, a member of the indigenous community of San José, is a non-technical demining survey assistant at HI. For two years, she worked hand in hand with the people, surveying more than 14 areas suspected of harbouring explosive devices. Thanks to her work, she has helped restore the confidence of the people of Inzá. They can now return to their land in complete safety.
"My work has taught me a lot. And I have been able to pass on what I've learnt to my community, explaining to people not to touch explosives and teaching my family how to take care. With the threat of explosive devices gone, we can now walk around without worrying, work in safety and visit the tourist sites without fear," says Diana.
Agriculture starting up again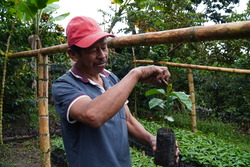 The humanitarian civilian demining operations carried out by HI will help to revive the local economy. Justiniano Pencué, a farmer from the indigenous community of Nasa, in Inzá, has waited ten years to plant and cultivate his land safely. During all this time, the danger posed by explosive devices on his land prevented him from extending his coffee plantations.
Thanks to HI's demining work, Justiniano can return to his land without fear. He has a nursery of 5,000 coffee plants, ready to be planted in areas that are now free of mines and ready to be made productive again.
"I am already preparing the land to plant my coffee. With these crops we'll be able to make a living, to feed ourselves," says Justiniano.
A region of great natural and cultural wealth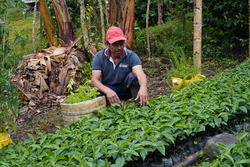 Inzá is a municipality located southeast of the capital Bogotá. The city has great archaeological, architectural and natural wealth. But, as in many parts of the country, the legacy of explosive devices left by the armed conflict has prevented people from enjoying it.
Among the most important places is the Tierradentro National Archaeological Park, a UNESCO World Heritage Site. Because of the suspected presence of explosive devices, it has never been fully explored. The municipality is also home to the "La Casa del Pueblo" public library, which has received a national award for Colombian libraries. Thanks to HI's demining work, these natural and cultural treasures will again be able to contribute to the region's development