Ecuador: urgent need to access areas worst affected by the earthquake
A 7.8 magnitude earthquake hit Ecuador on the evening of Saturday April 16. On April 22, 587 people were reported to have been killed and more than 8,000 injured. According to the United Nations, more than one million people (out of a population of around 16 million) may have been affected. The country has suffered considerable material damage and it is not possible to access entire areas of the North West.
© Handicap International
The main towns and cities affected are located in the provinces of Esmeraldas and Manabi, close to the earthquake's epicentre. Major problems accessing the area have already been reported in the field by humanitarian operators; major aftershocks risk worsening the situation.
"Many areas affected by the earthquake are out of reach because of the state of the roads », explains Simon Trichot, who is coordinating Handicap International's emergency response in Ecuador. « Some towns in the north-west of the country are literally inaccessible. That's where the people worst affected by the disaster live. The more time passes, the more we fear the situation is going to get worse, and the more the human toll will rise."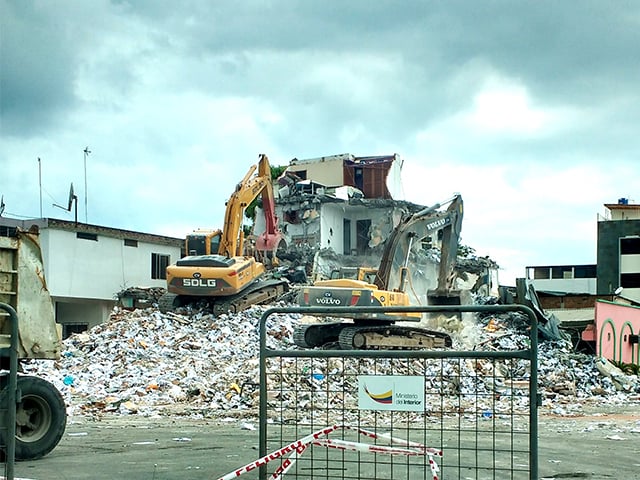 Buildings destroyed by the earthquake.
© Handicap International
Handicap International has deployed a team of seven emergency specialists from six different countries to support the national and international response implemented in aid of the affected populations, in close coordination with national and local authorities.
The organization's response will include rehabilitation care and psychosocial support (group discussions and one-to-one sessions) for the injured and families affected by the disaster.
Other actions may be implemented to support the authorities and local actors (organizations of physiotherapists and healthcare staff in affected areas) in the distribution of humanitarian aid, the care and treatment of the injured and the inclusion of the most vulnerable people (people with disabilities, older people and pregnant women) in the humanitarian response.