HI distributes food to families affected by historic flooding
Following catastrophic flooding across Pakistan, HI supports the most vulnerable households with provisions of food and emergency supplies.
HI food provisions sit on the ground as beneficiaries wait in line to receive their kits. | © HI
Disastrous flooding increases food insecurity
Across Pakistan, over 33 million people have been impacted by torrential rains and floodings since June 2022, displacing more than 630,000. Massive flash flooding has devastated dozens of districts, including the Khyber Paktunkhwa region, where 25 districts were affected. HI immediately conducted a rapid needs assessment in this region and designed food and emergency kits for the most vulnerable households affected by the flooding.
Over 1.14 million houses have been damaged, 765,000 homes have been destroyed and 1500 people have died, including over 550 children. Food security has become an increasing concern as acres of cropland are destroyed, nearly 936,000 livestock have been lost, and the prices of basic food supplies have risen dramatically. According to the UN, the price of rice has risen almost 80% since the beginning of the year. Around 6 million people are reportedly facing severe food insecurity.
HI distributes food to the most vulnerable
Thus far, HI has distributed food kits to over 310 of the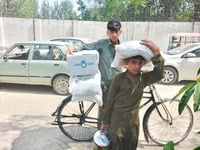 more vulnerable families in Charsadda and Noushehra, two of the most severely impacted districts of Khyber Paktunkhwa. Each food provision kit includes 40 kg of flour, 10 kg of rice, 5 kg of sugar, 5 kg of vegetable oil, 5 kg of beans, 1 kg of tea, 6 packs of biscuits and 1 pack of salt. These distributions specifically target families whose homes have been damaged or destroyed by the floodwaters, female-headed households, and households with persons with disabilities.
Food distributions will continue in the next week for 1000 families in these two districts, and an additional 1000 families will also be provided with household supply kits containing kitchen utensils, blankets, gas cylinders, buckets for hygiene and other daily use items.