Nirmala, 8: "I'll be a great actress when i grow up"
Nirmala, 8, has sparkling eyes. After losing her right leg following the earthquake which struck Nepal in April 2015, she underwent a long period of rehabilitation with the support of Humanity & Inclusion (HI) physiotherapists. Today, she is walking again on her prosthetic leg and obsessed with just one thing: becoming an actress.
Nirmala, Nepal | © Lucas Veuve / HI
Say HI to an extraordinary child. Say hello to Nirmala. Nirmala loves sliding down bannisters, playing with her friends and spending far too much time glued to a screen. Just an ordinary 8-year-old!
Except, one year ago Nirmala lost her right leg when a wall fell on her during the devastating earthquake in Nepal. Her leg was trapped under heavy rubble but some neighbours pulled her out and she was rushed to the trauma centre in Bir hospital, Kathmandu. The hospital was in chaos, overwhelmed with injured people.
Nirmala was among the first earthquake survivors to undergo a life-saving amputation that day. She was only 7 at the time. But since then, thanks to our physiotherapists, she's not just learned to walk again, but also how to laugh.
Amazing progress, one step at a time
Nirmala quickly began emergency rehabilitation sessions with our team, to strengthen her leg muscles and regain balance. Her positive attitude helped speed up her recovery from day one. She soon started to enjoy life again and play with the other children.
While in hospital, Nirmala met Khendo, a six-year-old girl who also lost her leg in the earthquake. The two soon became saathi (friends) and have helped each other through the rehabilitation process.
"They have made great progress. Nirmala has shown enthusiasm and great will power. She gives Khendo confidence and never backs down from a challenge. They have a deep friendship and it is helping with the rehabilitation process", explains their physiotherapist, Sudan Rimal.
Her parents were grateful for the support. "It's a big relief. The physiotherapists take care of Nirmala every single day. They tell us how to use the crutches and the sort of care we can provide. The help they give our daughter is essential."
For the first few months following her surgery, Nirmala lived in the hospital with her parents, whose house was completely destroyed by the earthquake. They had nowhere else to go, and no way of making a living. Their other daughter, a cleaner, and two sons, who are tailors, give them a little money.
They felt unsure about what the future might hold for their daughter. "We're hoping for the best, we'd like her to do her studies. But we're wondering what's going to happen to her. Will she manage to fit in? Will she feel different?"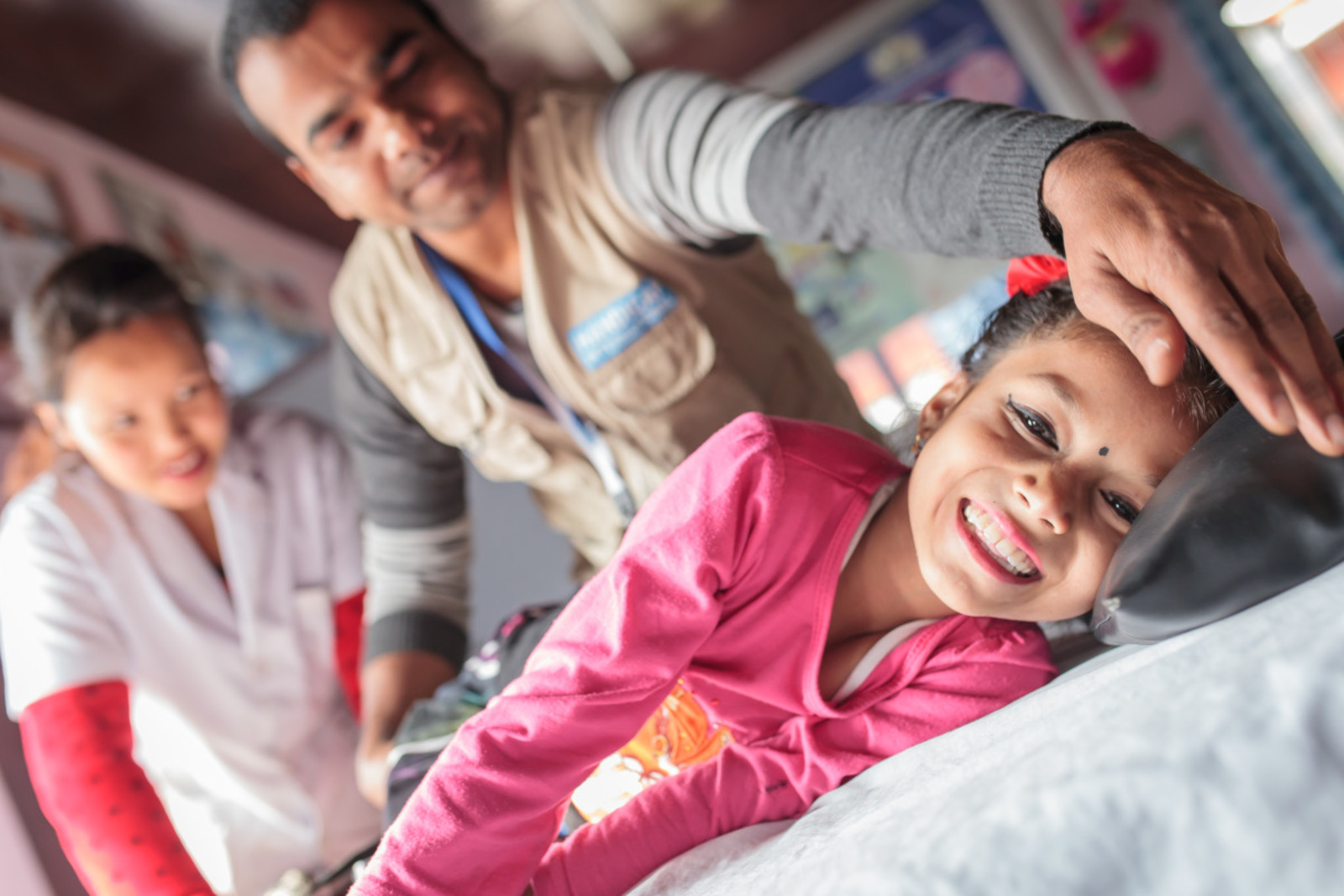 Nirmala during a rehabilitation session with her physiotherapist and his assistant.
© Lucas Veuve/HI
A new beginning
After eight months of rehabilitation with HI staff, first at Bir hospital and then at our local partner's, the National Disabled Fund, Nirmala and Khendo took their very first steps on their new prosthetic legs.
Nirmala was very happy with the results. "I'm feeling good," she exclaimed. "Before the prosthesis, I wasn't walking straight. Now I'm walking straight!"
The young girl is never short of energy. When asked what her favourite hobbies are, Nirmala answers quickly, "I like dancing, I like playing football, I like running." She is already putting her prosthetic leg to good use doing all these things!
The girls have now been able to move with their families into a basic apartment in Kathmandu. Nirmala's parents decided not to go back home to their village in Okhaldhunga District, eastern Nepal, six hours drive from the capital. They knew that Nirmala would struggle to access the ongoing rehabilitation care that she needs and daily life would be difficult.
Her mother, Hum Devi, explains, "Nirmala is the youngest of our four children. She is delicate. The region is too hilly. How would she get around?"
Her parents have now set up a sewing workshop in Kathmandu and are doing all they can to support the family. Hum Devi hopes this for her little girl's future: "We only want one thing: we want her to be able to study and one day get a job that will give her an income to live on".
Nirmala smiles. "I'm going to be an actress!" she replies cheerfully, with a proud look in her eyes.