Pedro, upholsterer and leatherworker in Santiago de Cuba
In Santiago de Cuba, HI supports the economic inclusion of people with disabilities. Pedro, who has hearing loss, has received a donation of equipment to develop his upholstery business.
Pedro in the family upholstery workshop in Santiago de Cuba. | © Productora Myagenes / HI
My name is Pedro Alberto Mora-Lopez, I have been partially deaf since I was a child. At the age of 14, I learned the upholstery and leatherwork trade and I practice it with passion. I enjoy working with fabric and leather to make cushions, mattresses and other things.
Modern equipment
Some social workers came to tell me about the livelihood project that HI is implementing for the economic inclusion and empowerment of people with disabilities and their families. I hadn't heard of it before and was very interested in this opportunity. I was told that I could benefit from a donation of equipment to develop my business. I thought it would be nails or cord... I had no idea what to expect.
Despite my many years in the upholstery trade, I didn't have an electric sewing machine. Every day I had to operate my old machine with my legs and feet, pushing the pedals all day long. My legs were so tired...
So when I saw all the tools and equipment that were being donated to me, I was delighted. Through HI's project, I was given a sewing machine, hammers, a stapler, pliers, standard needles, shoe needles, scissors, aluminium-cutting scissors aluminium, and much more.
A family business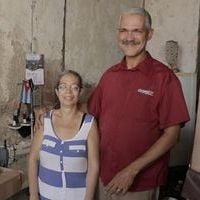 Now I can work from home with my son. My wife also wants to learn the trade. We've been married for 25 years and she really likes the upholstery business. She helps me with my work every day.
This livelihood project has given a real boost to our family business and made it much less physically demanding. It is also helping to strengthen bonds within the community and enhancing the skills and autonomy of people with disabilities and their families. We'll be talking about it for a long time to come!