"Tomorrow, we'll have to give back to Malak the equal opportunities to guarantee her personal development and her inclusion"
Explosive weapons
Rehabilitation
Bilingual remarks pronounced by Handicap International Canada's Executive Director at Global Affairs Canada on April 13, 2016, as invited by the Minister of International Development and La Francophonie.
© E. Fourt / Handicap International
Madame la Ministre, Chers collègues et confrères, Mesdames et Messieurs les journalistes, Handicap International est heureuse de constater la diversité des choix de financements qui viennent d'être faits par le Gouvernement Canadien.
Cette diversité est en effet primordiale pour répondre à la complexité, à la longueur et la barbarie d'une Crise Syrienne qui fait rage depuis 5 années désormais.
Derrière les millions de personnes déplacées en Syrie ou réfugiées dans les pays avoisinants, derrière les centaines de milliers de morts, derrière les dizaines de milliers de candidats à l'exil – en Europe, en Amérique du Nord ou ailleurs – j'avais envie de prendre ces quelques minutes pour revenir à la raison pour laquelle Handicap International et tous les partenaires ici présents, nous sommes là aujourd'hui.
Nous sommes là pour Malak, une petite Syrienne de cinq ans.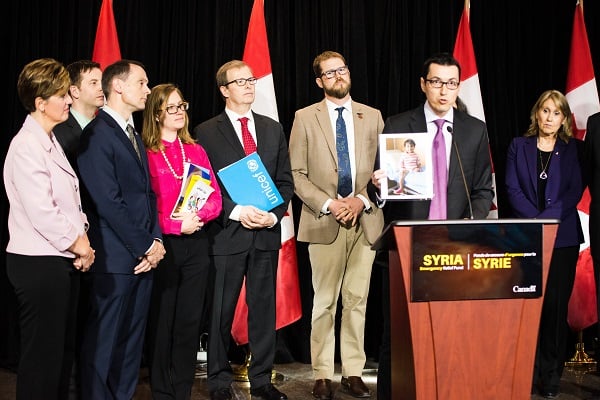 Nous sommes là pour porter sa voix et celle de sa famille et des milliers d'autres qui ont fui la Syrie parce que leur maison avait été bombardée.
Malak y a perdu sa plus jeune sœur et a dû être amputée de la jambe gauche.
Sa famille a fui parce que la communauté internationale, dont nous faisons partie, a été incapable de garantir sa protection et sa prise en charge en Syrie, et elle s'est donc retrouvée au camp de Zaatari, en Jordanie.

Là-bas, tous autant que nous sommes, nous croisons quotidiennement des réfugiés désespérés, qui ont perdu à la fois leur passé et ont encore moins d'avenir.

Là-bas, nous rencontrons des personnes atteintes de maladies chroniques, comme le diabète ou comme les maladies cardio-vasculaires, qui n'ont plus accès à leurs médicaments ou à leurs soins.

Là-bas et dans les autres camps en Jordanie, au Liban, en Irak, nous accueillons ces personnes parce que sommes, encore trop souvent, incapables de les rejoindre dans leurs villes et leurs villages parce que l'accès humanitaire, malgré toutes les résolutions du Conseil de Sécurité de l'ONU, n'est pas suffisamment respecté.

Là-bas, nous luttons contre les discriminations et la marginalisation qui menacent, quotidiennement, des femmes, des enfants, des personnes âgées, des personnes handicapées, des personnes blessées, et les plus pauvres des réfugiés. Nous combattons les barrières qui empêchent ces mêmes personnes d'accéder aux services de base et aux services spécifiques qui leur sont dus.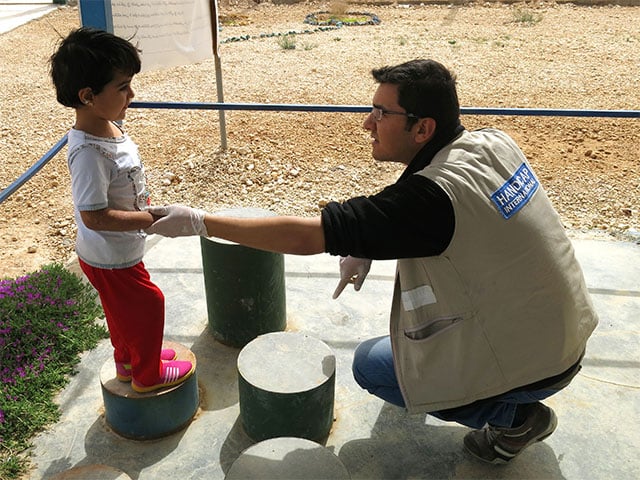 © E. Fourt / Handicap International
Today, Handicap International and all its Canadian humanitarian partners are involved in alleviating the suffering of people taken as hostages of a situation that becomes worse and worse every day.
But the future is at our door and we must, all together, work to ensure that the safety and the dignity of innocents are and will be respected.
Tomorrow, we'll have to help these people going back to a country covered by mine fields, full of landmines, cluster munitions and explosive devices.
Tomorrow, we'll have to empower our current local partners in Syria, Lebanon, Jordan and Iraq to ensure the sustainability of the post-crisis activities.
Tomorrow, we'll have to help affected countries to rebuild their health and rehabilitation services, their infrastructures and their whole society.
Tomorrow, we'll have to convince international and individual donors that years will be necessary to repair the devastation caused by the various faces of the conflict in the area.
Tomorrow, we'll have to accept that Syrians and other refugees won't go back to their native countries and will decide to stay in Lebanon, Jordan, Europe or even Canada.
Tomorrow, we'll have to give back to Malak, to her sisters and brothers, the equal opportunities to guarantee their personal development and their inclusion.
Car pour Handicap International, que ce soit en Syrie ou ailleurs, le futur s'appuie obligatoirement sur une prise en compte et une participation des personnes handicapées et de leurs familles, encore trop souvent sous-représentées dans les réponses humanitaires.
Je vous remercie de votre attention.