"When the war is over, I'll go back home"
When Mohammad, Handicap International's physiotherapist, arrives outside Adnan's tent, the old man warmly invites him inside. "I was waiting for you!" he says with a smile as Mohammad sits beside him. "Handicap International is the only organisation that has helped me since I arrived. You're always welcome in my home," he adds with emotion. Mohammad smiles and asks how Adnan, who is still recovering from surgery, is feeling today. Ten days ago, his health took a turn for the worse, and doctors had to amputate his left leg.
Mohammad checks the amputation scar. | © E. Fourt / Handicap International
"I've been diabetic for 16 years," he explains. "But my condition got much worse in 2014. We were still living in Sinjar at the time. Islamic State fighters arrived and killed my son in front of my eyes, just because he was a policeman. And then they forced us to move to Mosul, where we lived for two years. I was very tired, physically and psychologically, and I couldn't afford my medication anymore. I was starting to get gangrene in my right leg. So I amputated my big toe because I thought it might stop the problem."
By the end of 2016, life got even worse for Adnan and his family. "The city was under constant attack and my daughter was hit by shrapnel. She died instantly. Another of my daughters was paralysed in the same incident. Shortly afterwards, the army arrived in our neighbourhood. We fled Mosul and ended up in this camp." In Hasansham, Adnan became seriously ill. The gangrene gradually spread through his other leg. "We went to several hospitals and asked doctors to look at my leg, but we didn't have enough money to pay for an operation. I was totally desperate."
It was at this point that Adnan met Handicap International's team. "When I saw the state his leg was in, I immediately referred him to one of our partners for a free amputation," explains Mohammad. "I've never seen anyone in such a bad state." Adnan was taken into care and immediately operated on. Handicap International also supplied him with a wheelchair to help him move around. "What you did saved my life, I'm very grateful," adds Adnan, smiling at the physiotherapist.
After checking his scars, Mohammad encourages Adnan to stand up. He has brought some crutches with him to help him move around. "Once the war is over and I can walk again, I'll go back home," says Adnan. "That's all I want now. We'll have to start from scratch, I know, but that's okay, we'll be happy." He takes a few steps and then peers outside. A smile crosses his face, as if, just for a moment, he had glimpsed the future.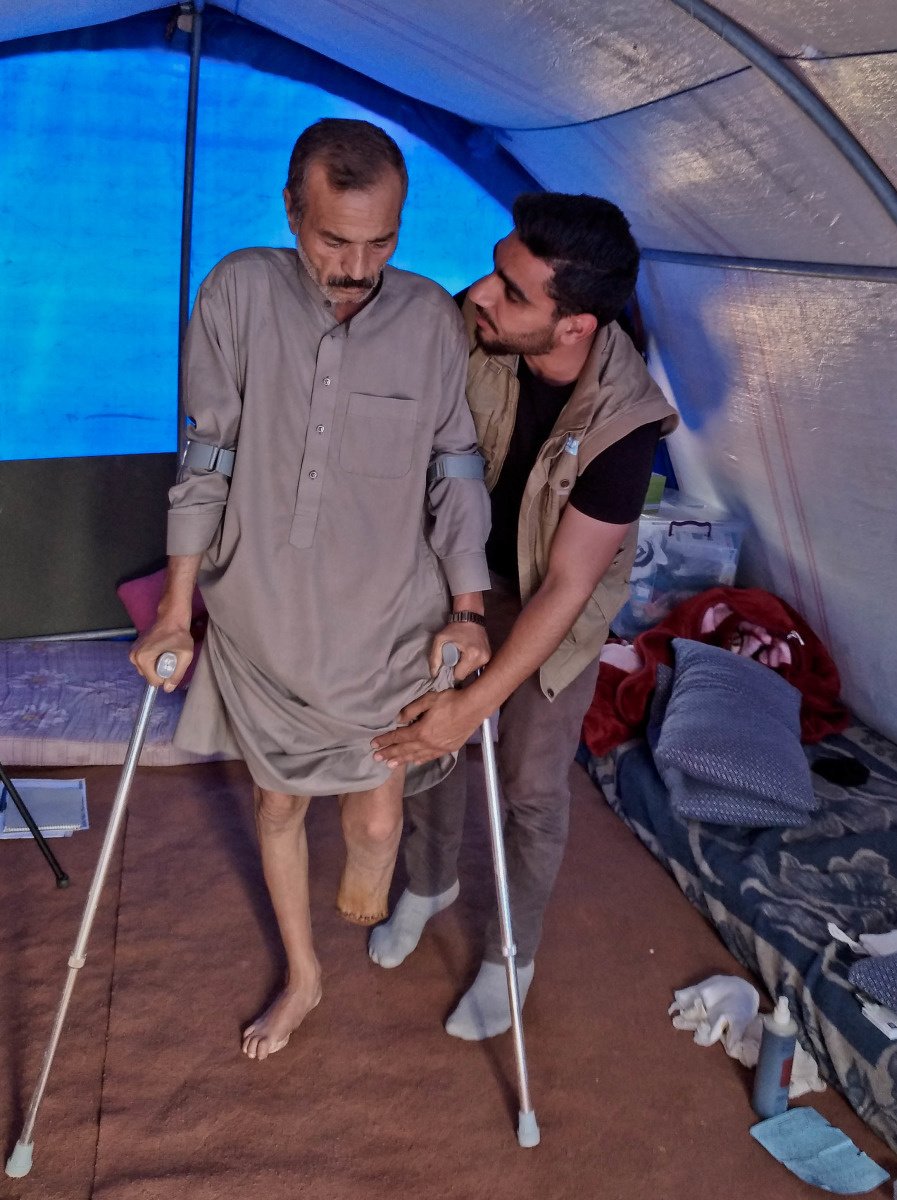 Adnan tries to walk with crutches.. © E. Fourt / Handicap International