"All women with disabilities should know how to say no when they have to"
My name's Dieynaba Diallo. I'm 53 and I live in Senegal. I have a motor disability and I coordinate the Thiès branch of the pan-African Women in Law and Development in Africa organisation, a partner of HI.
© Rem Dia Lo / HI
Always have your say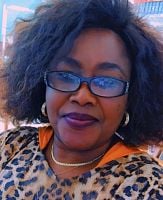 I have a disability because I caught polio when I was 7 years old. Back then, people with disabilities, especially little girls, were treated as objects of pity. My mother fought hard for me. She insisted I go to school. It had an enormous impact on my life.
I gained confidence at school. I always felt that I needed to do better than the others. When I challenged myself, it wasn't as someone with disabilities. I measured myself against what children without disabilities were or weren't capable of. Back then, people believed only boys could excel and succeed. To stand my ground, I competed with them for the best marks and to be top of the class.
I always felt I should use my position as a woman with disabilities differently. I wanted people to know I was more than my disability. I wanted to show them I had abilities despite my disability.
During my career, I worked in a human rights NGO, raising awareness on women's rights. I also worked at the Réseau Africain pour le Développement Intégré (African Network for Integrated Development), which provides legal and judicial support, and at a shelter for victims of violence. Training is my vocation. Some things resonate with me, and I always want to give my input. This means you have to be able and knowledgeable enough in different fields. It's a challenge and I'm determined to rise to it. This is why I have seized every opportunity to educate myself throughout my life.
Systemic violence against women with disabilities
I've seen cases of physical violence, and some of it was dreadful. I recently helped a woman file a complaint against her father-in-law. Before beating her, he removed her prostheses so she couldn't move or escape. This is a good example of violence against women with disabilities: had she been able to use her legs, she could perhaps have run away. Some women also suffer sexual or psychological abuse. Medical professionals also commit acts of violence against women with disabilities. These women have rights: the right to motherhood, for example, and the right to a consultation. They must be welcomed with respect and dignity by hospital staff. We had to raise their awareness and show them why they were part of this systemic abuse.
Women with disabilities must be able to exercise all their rights, especially their right to health and economic empowerment.
If someone abuses you but you are financially independent, you are protected to a certain extent. One woman with disabilities told her me her child was beaten at home, but she couldn't do anything about it because she was frightened that she would be thrown out and she didn't have anywhere else to go. Imagine what she had to go through because she couldn't cope financially. This has to stop.
When I started working for a human rights NGO, I raised women's awareness of their rights. Because I didn't earn enough to make ends meet, I used to resell products I'd bought in Gambia. It wasn't easy, the road was pretty bad, it could be dangerous… but it never crossed my mind to give up.
I felt I couldn't allow myself to do it: as a woman with disabilities, if I gave up, they would have stopped me making something of my life. Financial empowerment really makes a difference to a person.
Together, advocate for a rights-based approach
All we want from partner organisations like HI is to share the fight with us. To fight by our side against injustice and build an inclusive society that advocates a rights-based approach and makes it possible for everyone to live in dignity.
We need to adjust to reality and diversify our activities. What we really need now are sustainable businesses that create jobs and generate income. Businesses owned by women with disabilities. Women with disabilities have the ideas, the courage, and they think big - they just lack the means.
Making every woman a Dieynaba Diallo
I joined all sorts of organisations early on, and this commitment really shaped who I am. My main priority is the rights of people with disabilities and women with disabilities - in Senegal, internationally and on decision-making bodies. Other women have other outlets to talk about their problems; these conversations are closed to women with disabilities. I want to help my sisters, talk with them and tell them that no one can fight this battle for us. We and only we can see it through. Together, we will win this fight.
I am driven by the challenges still ahead of us. We must meet them together.
One day, in a meeting, one of my sisters said to me: "I want to be Dieynaba Diallo". I replied: I'm relieved to hear that! Because when people see me today, they don't dare commit injustices. But others still suffer these injustices. This is why my mission is to make every woman with disabilities a Dieynaba Diallo - a woman who knows how to say no when she has to.