A third of Pakistan underwater in unprecedented flooding
Pakistan is experiencing its deadliest flooding in over a decade, with over 6.4 million in need of humanitarian aid. HI prepares emergency kits to support the most vulnerable families
A woman and children look out onto a flooded village. | © Development Tales Media / HI
Historic flooding affects 33 million people
Since mid-June, 2022, unprecedented rainfall has led to the deadliest flooding Pakistan has seen in over a decade. More than 1400 lives have been lost, and 12,700 people have reportedly been injured.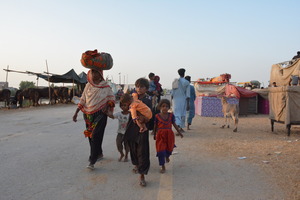 Though the rains have finally stopped, the situation remains alarming. Over 630,000 people have been displaced and are living in camps, 80% of those are from the Sindh region alone. 81 districts have been declared 'calamity hit' and 33 million people have been affected by the historic flooding. 6.4 million people remain in need of humanitarian aid.
"It's a bit apocalyptic," says Caroline Duconseille, HI country director in Pakistan. "You see houses that have completely collapsed from the passage of water. Bridges are destroyed. There are lines of people on the side of the road who have built temporary shelters and are sleeping in tents - with nothing left but the clothes on their backs - not to mention the trauma that this represents for these people."
In addition to destroying over 566,000 homes, the flooding has caused infrastructural damage to another 1.17 million houses, over 22,000 schools and more than 1460 health facilities. Schooling has been interrupted for more than 3.5 million children.
HI to distribute emergency kits
HI teams are present in Pakistan and preparing interventions in the affected regions of Nowshera and Charsadda. 600 of the most vulnerable families[1] displaced by the flooding will benefit from HI's distributions of food and basic household goods. Food kits will include 40 kg of wheat flour, 5 litres of vitamin-enriched ghee, 5 kg of beans[2], 10 kg of rice, 5 kg of sugar, and packs of tea, biscuits and salt. Household supply kits will include a variety of aluminium and steel cookware, dishes, and cutlery for preparing meals; buckets, sponges, and dish soap for cleaning and hygiene; and blankets, pillows and mattresses for sleeping.
The flooding comes at a time where much of the population has already been facing increasing food insecurity. According to the UN, around 73% of affected households currently have insufficient access to food, and over 2 million acres of agricultural land have been damaged. More than 755,000 livestock have been lost in the natural disaster.
"Flooding of this scale is unprecedented in Pakistan and requires an immediate emergency response," Caroline says. "Our initial focus is meeting the most urgent needs of impacted communities, including access to food and daily essentials such as soap, cooking supplies and warm blankets."
HI will also deploy psychological first aid teams to assess the needs of displaced populations and provide assistance (directly or through referral) in coordination with national authorities. The organization is also exploring possibilities to expand its response to include further districts and services.
HI in Pakistan
HI has been present in Pakistan since the early 1980s and implemented humanitarian projects across multiple districts, including an emergency response to flooding in 2010. Today, HI has a team of 31 staff members in Pakistan.