Dania is proud to be contributing to her community's development
In Cuba, HI is helping local people to prepare for potential natural disasters and strengthen their autonomy and resilience. Dania has received support for her farming activity.
Dania Perdomo Aguado is a farmer in Minas de Matahambre, Pinar del Río province. | © HI
Because of its geographical location, Cuba is particularly prone to natural disasters. In the province of Pinar del Río, in the west of the country, HI is helping people to cope with the risks of drought, flooding and forest fires. One such person is 51-year-old farmer Dania Perdomo Aguado, who has received support to strengthen her activity and thus contribute to her community's food security.
A passion for her profession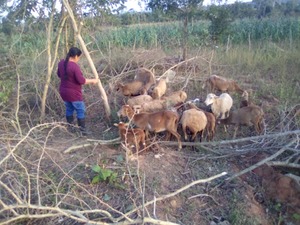 As a teenager, Dania decided to follow her heart and left school to work in the fields. At just fifteen, she was already certain that she wanted to devote her life to farming and breeding livestock. What does she love most? Looking after her livestock: calves, cows, donkeys, horses...
Dania first worked in an agricultural cooperative set up by a number of farmers who decide to pool their land and means of production. She learnt a lot there, and her passion for her profession has continued to grow.
"Every day, I get up for work with the incentive of knowing that I'm one of the main producers supplying my community. Some days are harder than others, but my desire to give more and to continue to contribute to the community makes me resilient in the face adversity," she says.
Strengthening communities' resilience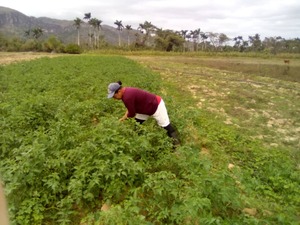 In the 1990s, Dania left the cooperative and set up her own farm. She began growing tobacco, rice, beans, sweet potatoes and coffee and reared wild turkeys, chickens, ducks and cattle.
Today, Dania is part of a collective organisation. How does it work? The ownership, equipment and production of each farm remain private, but the organisation's members share the use of an irrigation system, services and other facilities, such as barns and machinery. It was as a member of this collective organisation that Dania received support from HI's Cuenca Resiliente project, which supports local communities.
"The project has come at a very important time, because the country needs to increase its food production to meet the needs of the population. As a farmer, I've been given tools and equipment that enable me to do my job better. For example, I received rubber boots, a water tank, twines, zinc and so on. Today, with these tools, the work is easier and more efficient," says Dania, happily.
The support provided by the project will help to boost the production of farmers in Minas de Matahambre and secure the future of their farms. As a result, they will be better prepared to cope with potential droughts or floods, and the community's food security will be strengthened.
The Cuenca Resiliente project is funded by the European Union's Directorate-General for European Civil Protection and Humanitarian Aid Operations (ECHO). Launched by HI and Care in Cuba in June 2021, the project will run until May 2025. The aim is to improve the early warning systems and resilience of 14 communities living in Sandino, Guane and Minas de Matahambre municipalities in the Cuyaguateje river basin. As a result, the inhabitants of these three municipalities will be better prepared to prevent, cope with and recover from disasters. In particular, HI provides training in physical and psychological first aid and how to ensure the safety of people with disabilities, and helps communities to strengthen their resilience.