Heba have learned to walk with a prosthesis
Explosive weapons
Rehabilitation
Heba is a 13-years-old girl. Her home in Sada'a was struck by an airstrike last year. She suffered a serious leg wound and has to be amputated.
Heba with HI physiotherapist Fadia | © HI
After an airstrike, Heba was urgently carried to the Al-Thawra hospital in Sana'a. Her wound on the left leg was so serious that she has to be amputated right away.
"When I woke up from coma two days later, I saw myself without my leg, I felt so miserable", she tells.
At the hospital, the HI team explained to her the possibility to get a prosthesis and to walk again. Three weeks later, the team took the measures to produce the prosthesis. She made her first test with it.
She benefit from a rehabilitation program including balance exercises, gait training and strengthening exercises to be able to walk with her artificial leg.
Self-esteem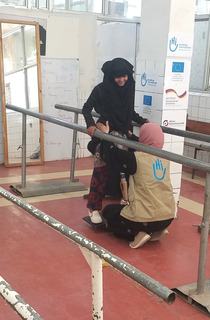 She is now able to go up and down the stairs. "Before, I was in bed and I couldn't stand up, walked or have balance," she says. "I feel so happy to get my prosthesis! I want to go back to school. I hope that I can become a pharmacist," she explains.
In the future, she would like to buy a large piece of land to build a pharmacy and distribute free drugs to poor people.