Helping Raizy get her life back
A stroke left Raizy partially paralyzed and stole her independence. HI has been using rehabilitation to improve her mobility and adapt her daily activities.
: Raizy receives massage oil from her physical therapist in the Tuléar rehabilitation center. | © Parany.Photo / HI
A stroke left Raizy paralyzed
Raizy is 54 years old and a mother to four adult children. Originally from the Tulear region of Madagascar, she traveled far and wide with her business. When she was 40 years old, she had a stroke, which left the right side of her body paralyzed. Ever since, she has used a wheelchair to get around and says she must depend on others to complete daily activities.
"Since I can't move anymore, I have to depend on others to do everything for me," Raizy says. "I cannot even feed myself. Sometimes I call for help and nobody comes, I feel powerless and it makes me sad. I don't want to sit anymore. My greatest wish is just to walk again. I want to take care of my children, my grandchildren, and return to my business."
HI uses rehabilitation to improve her movement
Raizy was referred to HI's partner rehabilitation center and began receiving rehabilitation services to improve her situation. A long time had already passed before she began rehabilitation care, so the paralysis set into her muscles for years, making it more difficult to overcome.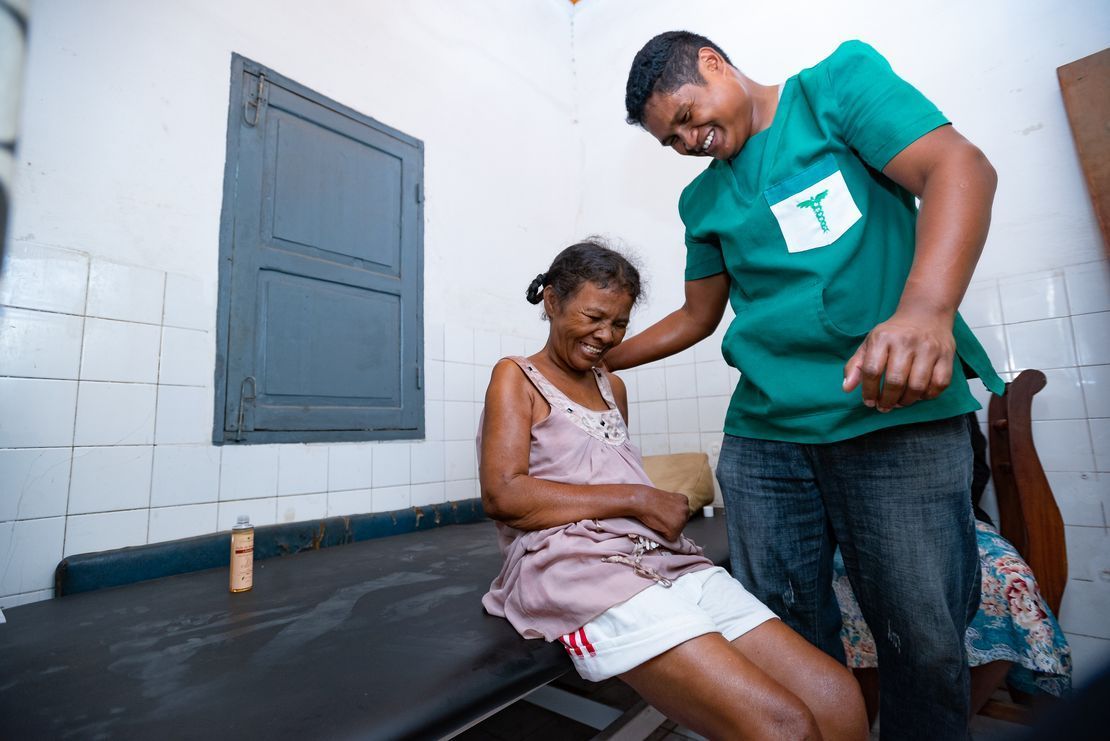 "We had finally started to see some progress," says Denis, a physical therapist at the rehabilitation center. "But with the covid pandemic, Raizy had to stop coming to the center altogether. She is now able to come back again, but she has lost her progress and the paralysis is now also affecting her left side."
At the rehabilitation center in Tulear, Raizy regularly works with HI rehabilitation partners to help facilitate her movement. She receives oil massages on her muscles to release tension and improve flexibility, she cycles slowly on the stationary bike, and she has one-on-one sessions with physical therapist Denis to strengthen her arms, legs and core.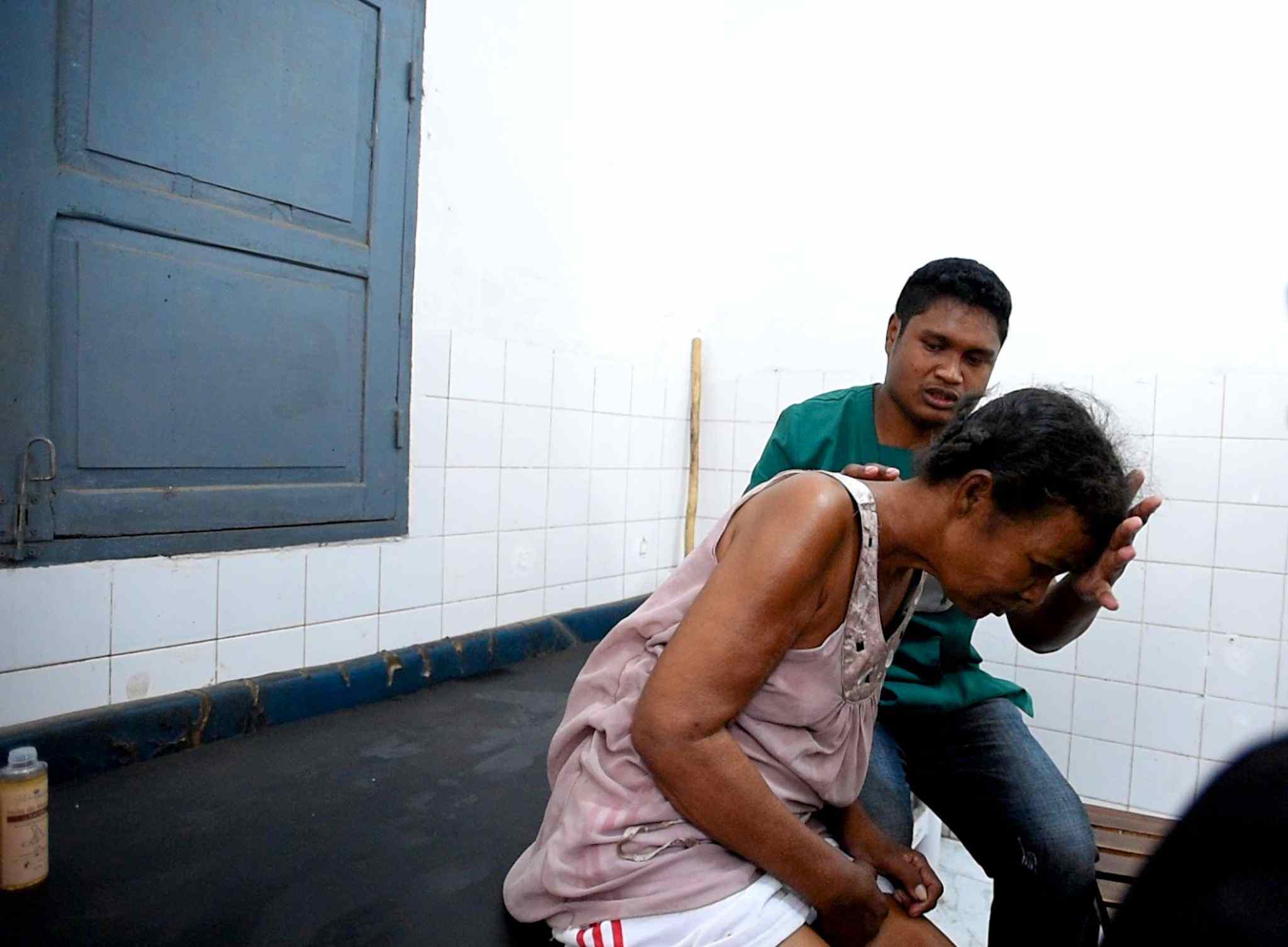 "Right now, we are working on little movements like lifting her hands and touching her nose," Denis explains. Later we will help her learn to hold and write with a pen. We also exercise her upper body so that she will be able to sit up on her own one day. I try some exercises without holding her, and I push her gently on one side so that she has to balance herself and it helps her core muscles grow. She will gain stability and upper body muscles."
"She can have her life back"
Denis says there is still a long way to go before Raizy reaches her dream of walking again, but in the meantime, his focus is on restoring her independence.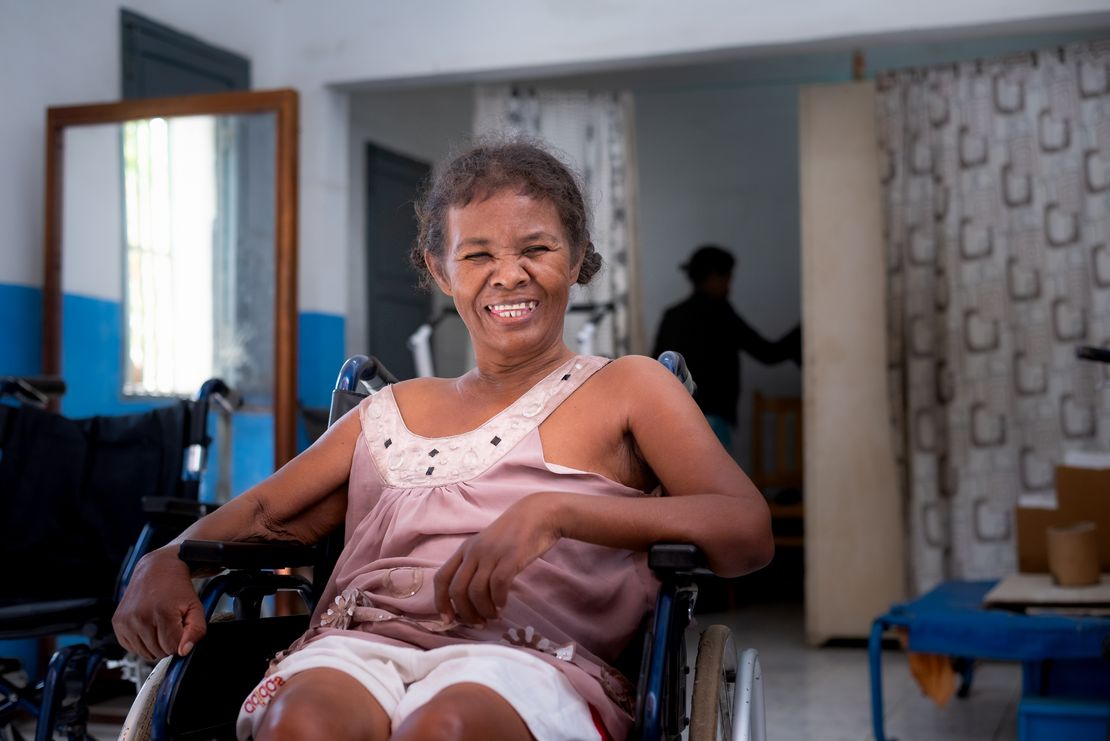 "We are still rehabilitating her muscles, but most importantly we are helping her to adapt to her daily life. If she cannot lift her spoon with her right hand, we help her find another way to use her spoon. If she cannot walk on her feet, we must find another way for her to get around efficiently. This way, she can have her life back, even if it doesn't look exactly the same."