"I used to be ashamed of coming from this neighbourhood. Now I'm proud of it."
In January 2016, Handicap International (HI) launched the "Makani" project in Egypt. The organisation regularly holds events in a working class neighbourhood of Cairo, where it also promotes the inclusion of people with disabilities. Through this project, the organisation also aims at encouraging young Egyptians to get more involved in their local community.
Children taking part in the event organised in El Warraq. | © E. Fourt / Handicap International
The event is coordinated by a dozen young adults. "We trained these young volunteers for several months before they began organising this kind of events," explains Mushira. "The idea is for them to become agents of change here. They live in the neighbourhood, they're familiar with local conditions and know the inhabitants so they're the people best placed to lead this kind of project. When we began working with them, we raised their awareness of inclusion. There are a certain number of people with disabilities living here and it's important that everyone in El Warraq is able to take part in the events these young people are organising now," says the project manager.
There's a carnival atmosphere in El Warraq, a working-class neighbourhood of Cairo where Handicap International is organising a number of children's activities today. "We've been running this type of activities for nearly two years," explains project manager Mushira. "Like in other areas on the outskirts of the capital, El Warraq is overcrowded and few services or facilities are accessible here. One million people live in the neighbourhood and the local authorities just don't have the capacity to meet everyone's needs. Moreover, recreational activities aren't seen as a priority. But children need places where they can learn and play. It's vital and it strengthens social cohesion."
A girl with Down syndrome takes Mushira by the hand, and she encourages her to take part in the activities. The local children have been divided into groups organised by activity. Some of them learn to sing while others draw or do origami. They smile and chat with other children their age. It doesn't matter if they have a disability or not - everyone is welcome as they are and the activities are adapted to all.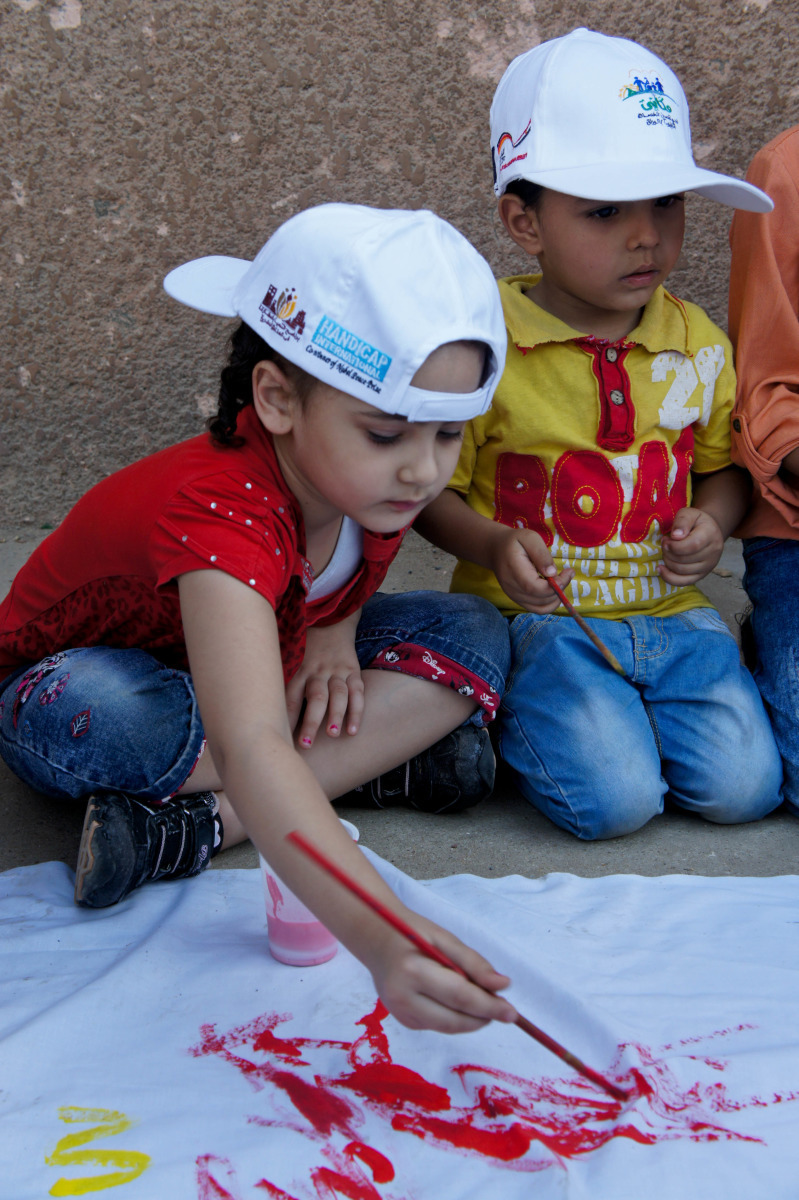 © Elisa Fourt / HI
At the end of the afternoon, as the event is drawing to a close, the singing of one hundred or so children echoes around the neighbourhood. The young adults trained by HI thank the participants for coming. Souheila adds: "When I see the delight on the faces of local residents - children and their parents - it makes me realise what a big difference the events we organise make to their daily lives. And it's gradually changing El Warraq's reputation too. Before, I was ashamed to say I lived here. Now I'm proud of it and I hope that this project will continue with the generations to come."
Souheila, one of the project's young volunteers, is running a painting workshop. She explains: "What we're creating here is something new but also really beautiful. We want to help everyone get on together and put a smile on the faces of these people, who often live in difficult circumstances. I grew up in this neighbourhood and it's great to see what these activities do for local people. And this project doesn't just benefit people who come to our events either. It's also taught me a lot about myself. I know how to interact properly with people with disabilities now, and I've learned how important inclusion is. More generally, "Makani" has helped me make my dreams come true, encouraged me to step outside my comfort zone, share more with others and realise that I can help bring about change."
HI: Launched in January 2016, "Makani" aims at improving the range of recreational activities available in an overcrowded working-class neighbourhood of Cairo. The project is based on an inclusive approach and also aims at encouraging young Egyptians to get involved in community life. The events organised by these young people and the initiatives they run must be accessible to everyone and promote social cohesion. The goal of "Makani" over the longer term is to ensure that young people's voices are heard by various community actors - local authorities, NGOs, community heads, service providers, etc. - and that they are able to play a central role in Egyptian society.