In Mali, HI helps poor households to meet their own needs
In Mali, drought and conflict are ravaging the region and threatening the population's food security. In Léré, HI is supporting poor households to gain financial independence.
Women members of a savings group in the town of Léré, Timbuktu, Mali. | © MAEFILMS / HI
In the Sahel, drought intensified by climate change and the conflicts ravaging the region have generated food insecurity and risks of undernutrition for many communities. To address this situation, HI and its partners are supporting them to develop sustainable economic activities that will ensure the financial independence of each household.
Accompanying households to obtain financial independence
In the town of Léré, in the Timbuktu region, HI set up a committee whose role was to identify the community's poorest households. These households benefited from monetary assistance for three years running.
The organisation also helped them to develop economic activities such as livestock breeding, agriculture, handicrafts or small trade, so that each household could generate a sustainable source of income. These initiatives were monitored by community coaches, members of the village trained by HI.
This was the case for the business run by Aya, a 39-year-old single mother of four. Aya ran a little eatery but she was struggling to earn enough income from her business. HI provided Aya with a grant of 120,000 CFA francs that enabled her to renew her equipment and buy more food for cooking. Today, thanks to the income generated by her little diner, Aya is able to provide for her household and pay for her children's school and medical expenses. She is now planning to use some of her savings to carry out repairs on her house.
"Thanks to HI's support, I have been able to save some money and carry out many of my personal projects. In particular, I am starting work on my house, which was really falling into a very worrying state of disrepair. Before, I had many customers but not enough money to serve them all... I was losing a lot of my customers as a result. Now I have been able to increase my production and become autonomous in my activity," says Aya, happily.
Strengthening the population's resilience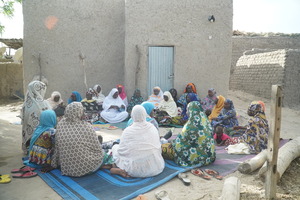 HI has also helped people to save money, through the development of village savings and credit associations, such as the one to which Aya belongs. These associations enable community members to lend to each other to strengthen their businesses, undertake new activities and diversify their sources of income with the support of the group. HI has trained the members of these associations in financial education and provided them with the basic equipment necessary for their activity: a register, three jars, a safe and three wallets.
In Mali and Mauritania, HI and its partners are implementing a project to improve the living conditions and resilience of vulnerable populations by providing them with skills and knowledge that will improve their daily lives in a sustainable way. This four-year project will support more than 2,600 households, i.e. approximately 15,000 people, thanks to financial support from the European Union. In addition, social cohesion and nutrition activities will benefit another 69,000 people. For this project, HI is working in partnership with other humanitarian actors: Solidarités International (SI), International Rescue Committee (IRC), Appui au Développement Intégré des Communautés Rurales (ADICOR) and Association Malienne.