In Mali, HI helps the courageous Aminata go to school
Inclusion
Rehabilitation
Thanks to HI's support, 10-year-old Aminata has returned to school, is studying hard, and has received a prosthesis for her arm.
Aminata has returned to school and is studying hard in class. | © S. Maiga / HI
When she was two years old, Aminata contracted a disease in her left hand, the cause of which was unknown to everyone. Despite numerous consultations in health centers and with traditional healers, her hand had to be amputated. Since 2019, she has been accompanied by HI, which has enrolled her in an inclusive school and provided her with a prosthesis.
Enabling Aminata to go to school
"In 2014, my daughter was left with a missing upper limb. It was a terrible shock for the whole family, totally darkening our future," says Youma, Aminata's mother.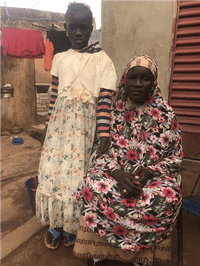 In 2019, HI started to support Aminata's family after referral from a community agent. The teams encouraged Aminata's parents to enroll their daughter in an inclusive school that welcomes children with and without disabilities. The teachers are trained to use adapted teaching methods and tools.
"Shortly after Aminata enrolled in school, her father died. We lost all hope for a while... Fortunately, together we had the strength to overcome this painful ordeal," reports Youma.
Providing a prosthesis and material assistance
With HI's support, Aminata received a prosthetic arm. The organization accompanied her family throughout the medical process and paid any related expenses.
"When Aminata received her prosthesis, we were very relieved that she had been fitted. It was as if she had a 'new arm'. My daughter was really happy to have this prosthesis", Youma remembers.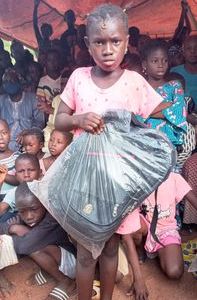 As part of the project, Aminata also received a complete school kit, including a school bag, pens and notebooks. This was a relief for her family, who could not afford to pay for the young girl's supplies.
Aminata, a courageous and diligent student
In December 2021, Aminata's family moved more than 2 kilometers away from the school she attends. "I was worried because I thought she would drop out of school because of the distance to our new home," Youma says. "But Aminata was never discouraged, and she continues to go to school."
Since her enrollment, Aminata has been attending school regularly. She is currently in grade 5. She is a very courageous student and has never repeated a grade. She dreams of becoming a "uniform bearer" - a police officer.
"Today, Aminata is my greatest hope," says Youma.