"The floods destroyed all of our belongings"
HI provides 2000 emergency supply kits to the most vulnerable families affected by flooding in Pakistan.
HI teams in Nowshehra, Pakistan at the registration desk for emergency supply distributions. | © HI
HI distributes emergency supplies
HI has now distributed 1000 food packs and 1000 kits of essential supplies to families affected by dramatic flooding in Nowshehra and Charsadda, Pakistan. Thus far, distributions have reached over 1500 families, benefitting approximately 15,500 people. HI will continue kit distributions in the coming weeks, and is exploring possibilities to expand the flood response with additional services.
"All of our homes were submerged in floodwaters, and we barely escaped with our lives," says one resident in the impacted region of Dhobi Ghat. "After the flood caused havoc, HI came to our region to examine the needs and has now returned with supply kits."
HI is present in the North (Khyber Pakhtunkhwa Province - KP) of Pakistan, much of which was impacted by the ongoing disaster. HI quickly began assessing[1] needs in six affected districts of the Province and found that the affected communities were in urgent need of food, water, hygiene, sanitation and shelter, as well as health and protection services.
Supporting the most vulnerable households
HI works closely with the most vulnerable households impacted, including older people, female-led households, and people living with disabilities, who are often disproportionately affected by disaster and simultaneously excluded from response efforts.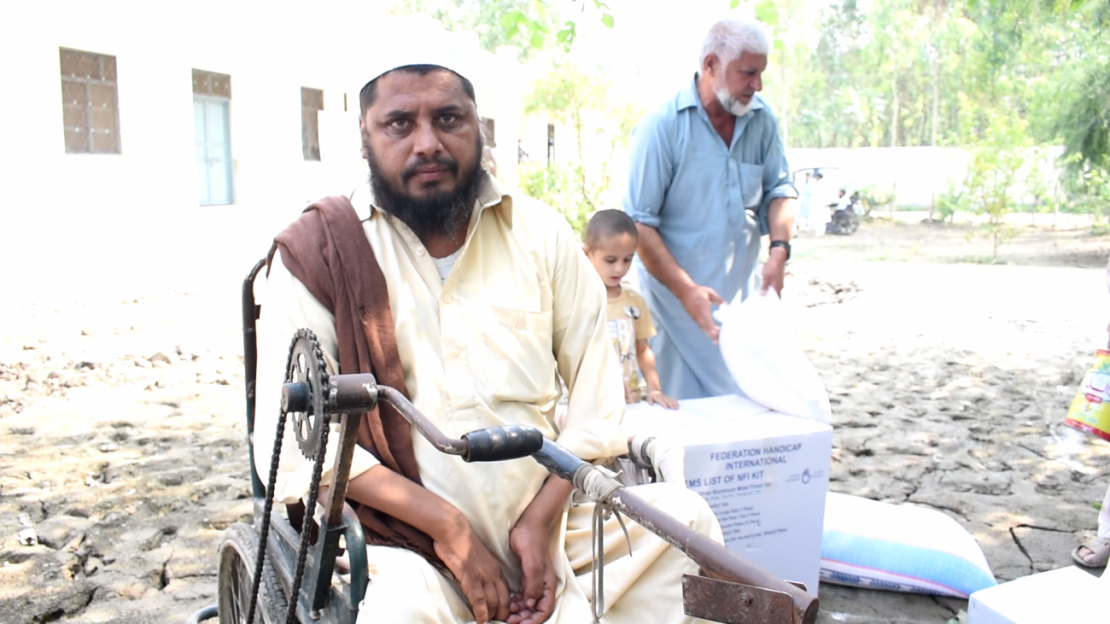 "My family was badly affected due to the recent floods," says Imran Ullah, who is living with a physical disability in Tarnab. "HI has now provided us with a food pack and I am thankful to their team for this much needed support."
"The floods destroyed all of our belongings," says Perveen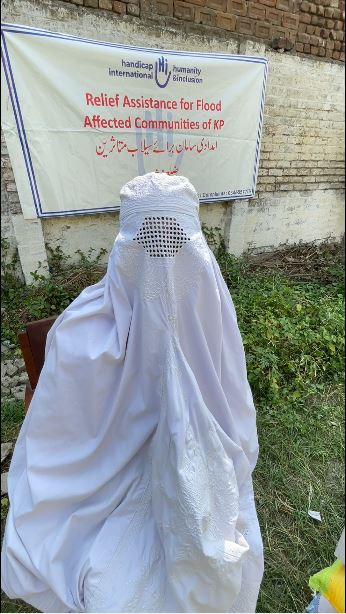 Bibi from Nowshera. "We had lost everything. Now I have flour, lentils, sugar, ghee and other items. We thank HI for visiting our village and standing with us in this difficult time."
Each food pack consists of 40 kg of flour, 5 kg of ghee, 5 kg of lentils, 10 kg of rice, 5 kg of sugar, 1 kg of black tea, 1 pack of salt, and a box of biscuits. Supply kits of non-food items include cooking supplies, blankets, gas cylinders, wash buckets and other daily use materials.
33 million people impacted
Since June 2022, torrential monsoon rains have caused what Prime minister Shehbaz Sharif described at "the worst flooding in the history of the country", with 33 million people affected in 84 districts (a third of the country). Approximately 1,700 deaths have been reported, and over 2,900 people have been injured. Widespread destruction includes damage to more than 1.3 million houses, 13,000 km of road, and over a million livestock lost.
---
[1] In collaboration with Helvetas and MdM